Team of Champions
The flag team steps out of their comfort zone to perform solos on the competition floor.
On October 26, I.D.T.A. (Illinois Dance Team Association) hosted the Start the Beat soloists competition. The flag team attended and individually competed against not only each other, but also against flag team members from Phoenix Military School. 
Stepping first on the floor was Rebecca Wilson (11) who performed a routine to "Champion" by Carrie Underwood. Her fierceness really showed the judges how determined she was to place well. "I want to be better than I was in the past years. As a team, our goal is to work together to perfect ourselves and bring home another first place trophy," Wilson stated. Next on the floor was Brianna Parkis (11). Parkis danced with her flag to Christina Aguilera's "Fighter" while showing the crowd some sass. Kylie Watkins (11) then took on the gym floor with her routine to "Rocket" by Def Leppard which accurately showcased her lively personality. Afterwards, Faith Hacker (11) stepped foot on the competition floor and danced with her flag to Christina Aguilera's "Fall in Line". Hacker's routine was executed so well, it made the crowd a little emotional. Lastly for the varsity girls was Tiffany Young (12) who performed a solo to the song "International Smile" by Katy Perry while shining her beaming smile at the judges.
Competing in the junior varsity category was Melanie Kirk (10). Kirk performed a routine to a Panic at the Disco song in "High Hopes" of placing first in her category. "With my anxiety, I never thought I could do a solo," commented Kirk. "I was just proud of myself for going out there," she stated.
At awards, it was announced that Wilson placed first in the varsity flag category and earned the Varsity Grand Champion title. "It feels great to hear your name called for grand champion three years in a row. It's almost a relief because now you know all your hard work, time, and practice has paid off," said Wilson. It was then announced that Kirk placed first in the junior varsity flag category giving the Herrin High School Flag Team another Grand Champion title! Other placements for the Tigers were Parkis placing third, Hacker coming in fourth, Watkins taking fifth, and Young placing sixth. 
Currently, the flag team is practicing to compete at Belleville Althoff on December 14. They will be performing a lyrical routine to "Bird Set Free" by Sia, as well as a tall flag routine to "Grown" by Little Mix. They cannot wait to see all your faces in the crowd!
Leave a Comment
About the Contributor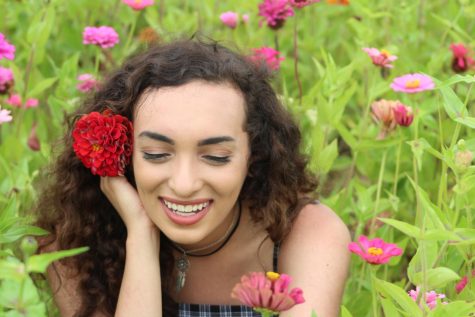 Tiffany Young, Lead Photographer & Photography Editor
Tiffany Young is a senior at Herrin High School. This is her third year in the journalism class. She is the lead photographer and photo editor for the...