State Bound for the Tigers
The Spirit Squads End their Regional Season on a High Note.
As the Dance and Flag Teams have been traveling to various competitions across Illinois, the Flag Team decided to host the third annual I.D.T.A. Herrin Regional Contest on February 2. The competition started off with Carsyn Berry (11) singing the national anthem. "I always get nervous to sing in front of people but once I start I usually calm down and realize it isn't that scary. Everyone is really supportive so it's always reassuring to know that nobody will be mad if I mess up" Berry stated about her experience. 
Eight soloists from various opposing teams then took on our home floor. First, Tiffany Young (12) competed in the Solo Flag category. Not only did Young place first, but she was also given a qualifying score for the I.D.T.A. State Competition in Springfield. "I was so surprised when I received a qualifying score. My routine has improved every time I've performed it and I'm hoping for an even better score at the State Finals" said Young. Shanie May (12) soon performed her Solo Dance routine and placed sixth.
As a team, the Flag girls competed in the AA Tall Flag category as well as the AA Lyrical category against Marion High School. During their performances, the judges noticed Rebecca Wilson's (11) aptitude for execution and decided to give her a Rising Star Award. "It was my last chance to get a Rising Star Award this season. It was also my first one ever so it was very unexpected" said Wilson. It was later announced that Herrin Flag's placed first in both of their divisions.
The Dancers performed their AA Pom routine and their AA Hip Hop routine and placed first in both categories. With Herrin High School's Dance and Flag teams taking home five trophies and a medal, it was without a doubt an impressive way to end the regional season. 
The Herrin Tigerettes and Flag team will be performing all of their state qualified routines at the I.D.T.A. State Competition on February 15. The Dance team will compete against Lincoln and Mattoon in the AA Pom category. The Tigerettes will also be performing their AA Hip Hop routine against Centralia and Jersey. The Flag team will compete against Marion with their AA Tall Flag routine. These girls will then compete in the AA Lyrical Flag category against several teams such as Charleston, Jacksonville, Mahomet Seymour, Marion, and Urbana. Young will be performing her Solo Flag routine against eleven other soloists to compete for the title of Miss.I.D.T.A. Flag. 
Back in October, the Flag team took six soloists to the I.D.T.A. Start the Beat competition. At this contest, Wilson placed first for her Solo Flag routine and earned an automatic bid to state. It was then announced that Melanie Kirk (10) placed first in the Junior Varsity Flag Soloist category. These girls will be performing their Solo Flag routines as exhibitions at the 2020 I.D.T.A. State Finals.
Leave a Comment
About the Writer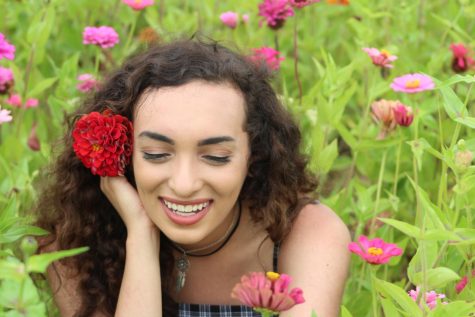 Tiffany Young, Lead Photographer & Photography Editor
Tiffany Young is a senior at Herrin High School. This is her third year in the journalism class. She is the lead photographer and photo editor for the...