The Mr. Homecomings
On Friday, September 30th, multiple senior boys participated in a talent show to compete for Mr. Homecoming. The applicants had to put on a show for their fellow students, whether it was a comedy act, a musical showcase, or anything in between. This year's competitors were Jarret Coleman, Grant Ellet, Hayden Taylor, Bradley Murray, Jacob Hawk, Yeshua Zayas, Fox Connor, and Brady Quaglia. Each competitor brought their A-game and the passion to win it all.
Coleman and Ellet, two HHS band members, decided to start the competition with a bang by playing the drums. Each drummer took a turn playing their heart out, while competing against one another. Eventually, the two began to play together, shocking the audience with how quickly and tastefully they were able to sync. Taylor decided to sing a duet with history teacher Mr. Howard. They both sang "Gotta Go My Own Way" with so much emotion that the crowd went wild once the two had to part. Murray surprised the crowd with an array of dad jokes. Zayas came out with some flair, hyping up the students. He wowed the audience with his performance of "Country Roads". Last but not least, Hawk pulled the heartstrings of everyone by singing "I Wish Grandpa's Never Died" by Riley Green.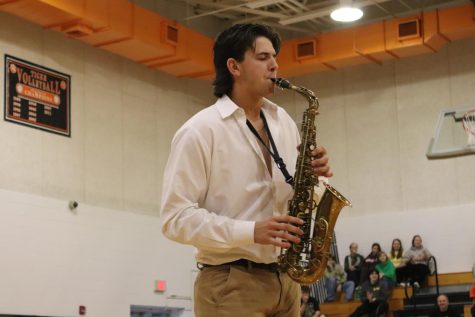 The stars of the show, however, were Fox Connor and Brady Quaglia. The two had planned their act almost a year ahead during their shared independent study in Mrs. Nagrodski's class. Connor said that he "wanted to follow in Matthew "Chewy" Warren's footsteps and entertain the school". Quaglia also agreed with wanting the "opportunity to make everyone laugh". The boys started by picking two of their teachers, Ms. Lach and Mr. Harrison, and set up dinner for the two. After providing the teachers with some food, they agreed that they had to bring the entertainment. Connor played the saxophone while Quaglia sang the lyrics to "Careless Whisper'" by George Michael. The crowd swayed to the music played before them. After the boys had finished, the audience gave an enormous applause, making Connor and Quaglia feel "proud and on top of the world". 
After every performance, the senior boys lined up to wait for their applause. It was close, but Connor and Quaglia reigned victorious. After hearing the cheers of their fellow students, they both felt accomplished and excited to be the new Homecoming Kings.
Leave a Comment
About the Contributor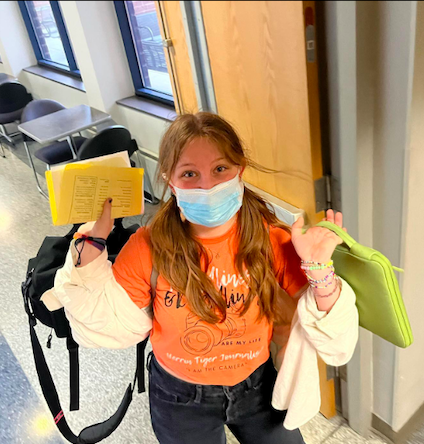 Dani Patalano, Photography Editor, Writer
Dani Patalano is a junior at Herrin High School, this is her second year as a Tiger Journalist. She joined journalism to learn more about photography and...