Back On Stage!
Herrin High gears up to take the stage as the world opens up again.
Well, it's that time of year again! Mrs. Simmons has chosen this year's fall musical. "All Together Now!" consists of a collection of several beloved musical theatre songs. Performances will be on Sunday, November 14th and Monday, November 15th. It is a national production and will be done by other theatre companies and schools all around the country during the same week! The show is definitely going to be something special!
From solos and small ensembles to big dance numbers, the show consists of all types of songs. Some of the popular solos include "Tomorrow" from Annie, "She Used to be Mine" from Waitress, and "Gimme, Gimme" from Thoroughly Modern Millie. The true showstoppers include "Be Our Guest" from Beauty and the Beast, "Supercalifragilisticexpialidocious" from Mary Poppins, and "You Can't Stop the Beat" from Hairspray.
After last year's virtual production of "Sondheim Solo's," Mrs. Simmons and the small group of devoted performers are excited to get back on stage. Sophomore Madyson LaBotte recounted how Covid-19 affected theatre for her. She said, "It really made it hard for me to find ways to enjoy it. Especially when Aladdin was cancelled, it was super upsetting. I'm glad we're getting to do shows again!" Director Mrs Simmons says, "COVID-19 has affected me both personally and professionally. I had plans in my head about what shows I wanted to do with the talented students that I have at HHS before COVID-19 hit." Answering why she chose this show, she said, "I picked this musical honestly for economic reasons. MTI (Music Theatre International) offered amateur theaters all over the world the opportunity to do this show for free! I also really liked all of the songs in the show. MTI got the rights to use some great music."
Auditions took place on August 31st and September 1st, and the cast list came out on September 3rd. Rehearsals are underway, so be sure to mark your calendar for "All Together Now!"
If you are interested in joining this year's show, be sure to contact Mrs. Simmons and let her know you want to be a part of the ensemble!
Leave a Comment
About the Writer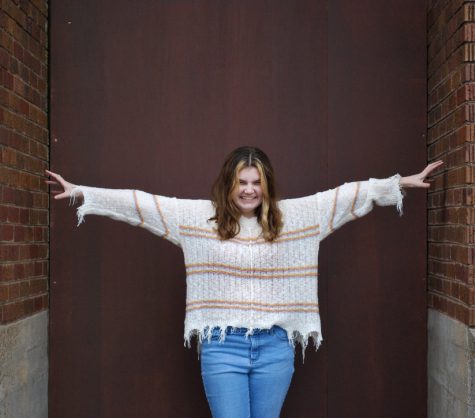 Rylie Patrick, News Editor, Writer
Rylie Patrick is a Senior at Herrin High School during the 2021-2022 school year. This is her first year on the Journalism Team. Rylie's analytical mindset,...