Basketball Blitz
The Herrin High School Basketball games are back! The 2021-22 school year brings new players and a fresh start to the season. With the Boys JV team coached by Quinton Smothers and the Boys Varsity team coached by Sayler Shurtz, the season is sure to be great. The Varsity boys started their season with a home game against Marion on November 23th, 2021. Although the team lost, they have ventured on beating Cairo, Massac County, West Frankfort, DuQuion, and the Gateway Lions. The team also won the Eldarado Holiday Tournament, which took place from December 26th to the 29th. As of January 10th, 2022, Varsity is standing with 10 wins and four losses, and JV has 11 wins and five losses. The team stands in second place in the Southern Illinois River-to-River – Ohio Conference. January 17th, 21st, and 22nd, the boys' basketball team participated in the West Frankfort Mid-Winter Tournament. Beating West Frankfort, Cairo, and Marion, the team came back home victorious. The All-Tournament Team consisted of Fox Connor (11), Jonathan Harrison (11), and Hayden Mayer (11). Junior Hayden Mayer was also awarded MVP.
January 28th, 2022 was the Winter Sports Senior Night and the Pink Out game. Between the JV and Varsity game the Winter Sports/Activities Seniors were honored alongside their parents. At halftime of the Varsity game cancer survivors walked alongside a chaperone. Both our very own superintendent, Dr. Nathaniel Wilson, and Principal, Mr. Jeff Johnson walked. Dr. Wilson walked with his wife, and Mr. Johnson walked with Senior Chase Sanders who wore his jersey for the Pink Out Football game last semester. In the commons area, Student Chamber held a silent auction with Pink-Out-style baskets. Also being auctioned off were the team's pink-out jerseys. While the JV team lost to the Benton Rangers, the Varsity team came out victorious with the score ending with 41-34.
When interviewing Coach Saylor Shurtz about this season, he mentioned how different it's been since last season. A "covid season," as he called it, called for a lot of uncertainty which is missing this season. "It feels basically back to normal," said Coach Shurtz, "the fans being back in the stands brings a new element." This season, the team is going to "hunt" for the conference championship and hopefully win regionals. Shurtz mentions how there has been lots of growth this season and that the team is rather young. The starting lineup includes the two seniors, Dillon Hall and Riley Chrostowski. For the first time in a while, the lineup includes a first-year, Kyrese Lukens.

In addition to Coach Shurtz, Dillon Hall, a senior boys basketball player, was interviewed. He recounts how this season will be his last season as a Herrin Tiger by saying, "This being my last season is pretty bittersweet. I feel accomplished having played all four years but at the same time it makes me a little sad knowing that there will be a game this year that'll be my last time stepping on the court as a player." He also mentioned that playing Marion was his favorite game so far in this season. He said, "They're our biggest rivals, and the crowd is always electric. Playing in that game every season is always one of the highlights of the season." Lastly, Dillon was asked why he chose 23 for his jersey number. "I chose the number 23 for a couple of reasons actually. One reason is that I wore 22 the year before so it was just the closest number to that but the main reason is the fact that some of the best basketball players ever wore 23. So, I feel like it's a pretty good number to wear."
The Pep Club is back! Last year's basketball season had no real audience due to COVID-19 and its threat. But this season's student section has been filled back up. Sponsor Mrs. Bush and her crew of honorary cheerleaders have come up with a brand new list of themes. Popular among many schools all over the nation this year is "Red Flag" and "White Lie." December 7th, 2021 the Boys JV and Varsity team played Cairo, and the Pep Club showed off their "red flags," or bad traits/characteristics. Some of the stand-out shirts included Junior Jacob Hawk with "I'm a preacher's kid," Senior Addie Cox with "I have court tomorrow," and Sophomore Dawson Matier with "I work out." With these fun themes, more student fans come to the games. Their spirit brings the atmosphere up and makes the games so much more intense and exciting. 
Be sure to come out and support your Herrin Tiger Boys and Girls Basketball teams at their respective games. Hope to see you there!
Leave a Comment
About the Contributor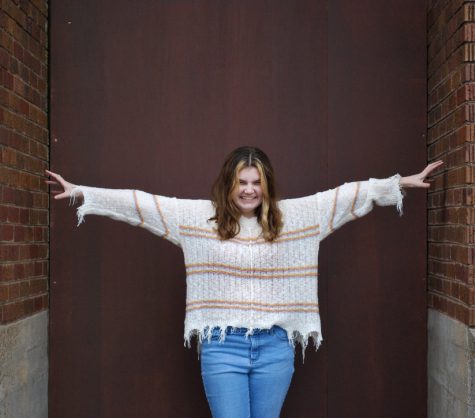 Rylie Patrick, News Editor, Writer
Rylie Patrick is a Senior at Herrin High School during the 2021-2022 school year. This is her first year on the Journalism Team. Rylie's analytical mindset,...