A Glimpse Into Joji's Smithereens
Joji, who debuted in 2017, has taken fans by storm with his slow lo-fi R&B songs inspired by different natural elements and memories throughout his life. Joji, otherwise known as George Miller, originally grew up in Osaka, Japan and moved to the United States in 2011. He started multiple Youtube channels known for their shock comedy style before slowly developing his musical persona, Joji. Finn Stover (12) found Joji through his original Youtube channels, but he "[likes] that he's shooting for a music career." Since Miller has debuted, he has released singles such as "Slow Dancing in the Dark" and other albums like Nectar. 
Smithereens is Joji's newest album and it features one of his hit singles, "A Glimpse of Us." Originally, Miller released "A Glimpse of Us" on June 6, 2022, and then began promoting his "Smithereens Tour", causing fans to speculate the tour name. Later on August 26, 2022, he announced Smithereens and dropped another song from the album titled "YUKON (INTERLUDE)." After a few months and a tracklist announcement, Smithereens was released officially on November 4, 2022. Owen Smith, a new fan, mentioned it was "pretty good" and "he likes the way it sounds." Fans were ecstatic to listen to the new album considering his last album had been released over two years ago in late 2020. 
"A Glimpse of Us" started the album off right. As an already well-performing single, it was a good choice for an opening song. I love how personal the lyrics are and how effortlessly Joji rhymes words. It helps the listener feel the comparison of present and past relationships along with the feelings associated with each extraordinarily well. "Feeling Like the End" is wonderfully written with the lyrics being smooth and pleasing to the ear. It does have the same vibe as the rest of the album instrumentally, but it still goes well with the lyrics, making another great song on the album. "Die For You" is my personal favorite song on the album. I cannot quite place my finger on what makes it truly addicting for me, but I am a sucker for instrumental breaks in a song. It flows beautifully and gives the listener such a wonderful story of love after a break up. "Before The Day Is Over" is a close runner-up in my opinion. The back track adds a more unique touch that almost gives a chilling feeling. While most of Joji's songs are inspired by heartbreaks, this song really reveals a side of breakups most people do not consider, the stage when "Things [change] course, [and] smiles fade to grin." "Dissolve" is the result of this. While the song is more guitar heavy unlike the other songs, I feel like it shows a change in dynamics. Every song on the album is wonderfully made, but I would have to say "Dissolve" is not high on my personal list. "NIGHT RIDER" is the start of the second disc, but I think it gives a completely new vibe. I like the more upbeat feeling it has, especially with the synth in the background. With the second half being more upbeat than the first half, the story does not come across as well. Either way, the second half of the songs are still some of my favorites because of the change in dynamics. "YUKON (INTERLUDE)" starts off with the slow build but speeds up as the song goes on. The touches of piano add a new progression to the song, making it feel like a second person is also included. "1AM FREESTYLE" is quick yet feels so powerful which leads to a strong finish of this album. The song has a dreamy aura around it like the rest of the songs, but it also feels lonely once the background fades on the "I don't wanna be alone." The second disc including this song shows a more selfish side of the relationship, which I feel does not get talked about enough. 
While the album can be repetitive for some, I believe the stories told throughout the album are enriching and provide new perspectives on parts of a relationship no one wants to talk about. I enjoyed listening to Smithereens and experiencing every emotion and story that came with it.
Leave a Comment
About the Contributor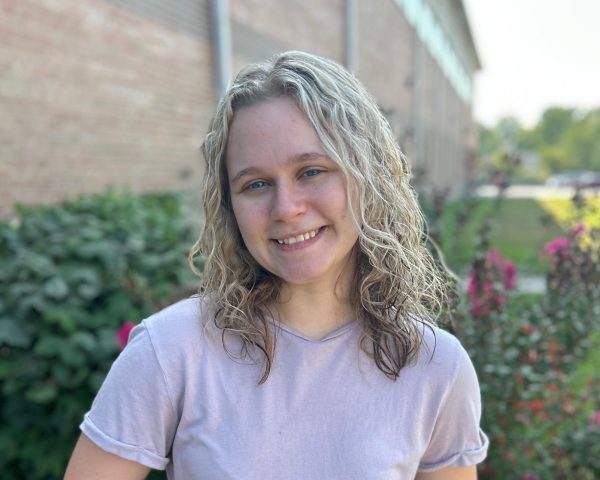 Mads LaBotte, Writer, Photographer
Mads LaBotte is a senior for the 2023-24 school year. She plans on using her journalism in school while majoring in chemistry during college.