XOXO: The True Meaning of Valentine's Day
It's not just about the couples and the chocolate.
With February 14th around the corner, everyone is either dreading or anticipating Valentine's Day. Everyone knows the stigma around the holiday only being for couples, but there is a more underrated definition that no one talks about anymore. 
There are many origin stories from different religions about where Valentine's Day came from. The Catholic Church has records of 3 different Saint Valentines; the similar theme of the Catholic stories is that Saint Valentine was killed in some way by protecting love for the people. He is seen as a sign of romance because of his heroic deeds in the name of love and now the anniversary of his death or burial is celebrated worldwide. 
The other origin story comes from the pagan holiday of Lupercalia, on which Roman priests would make two sacrifices to Romulus and Remus, the founders of Rome, which resulted in fertility and purification for the city. The hides would be used to whip women in ‌town in hopes of granting them more fertility. Women would put names in an urn, and eligible bachelors would pick a name of a woman to live with for a year; this year would typically end with a marriage between the two. 
Traditions in modern times are not as intense as they were in those days; while some people still celebrate with their significant others, Valentine's Day has become a day of love no matter the relationship between the people. While Valentine's Day seems centered around romantic love, there's also the love between family members. Whether it is receiving a simple card to a whole bouquet of flowers, some families like to celebrate Valentine's together by giving gifts or spending time with each other. 
Nevaeh Thetford's favorite Valentine's Day memory was when she and her little brother spent the whole day together and she was able to make him feel "really special." 
Even people who do not enjoy Valentine's Day still celebrate it in one way or another. Caden Green, for example, celebrates Valentine's Day with "no particular recognition of the holiday" yet still celebrates with his sister and parents.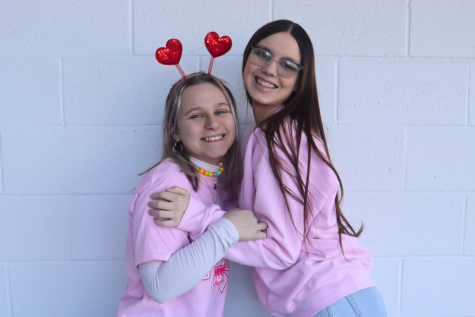 Valentine's Day is also about celebrating with your friends. Exchanging valentines was and still is a fun tradition in most grade schools. Most valentines follow popular media for the time such as TV shows and movies, but some are really creative with quirky puns and fun little toys. The holiday really helps bring kids together in a fun and cooperative way. Some teachers even allow customized valentines holders either made from home or during the school day. 
Yet another popular way to celebrate is known as "Galentine's Day." It is when a group of (typically) girls get together and have a fun-filled day of different activities. Some ideas include spa days, comfy watch parties, or just a shopping trip. All of these activities allow the group to get closer together and really get to know each other. 
In other words, Valentine's Day can be about romantic love but also familial and platonic love. Valentine's Day is about every type of love. Celebrate this Valentine's Day surrounded by your loved ones and the people you are close with.
Leave a Comment