Star Light, Star Bright
"I already have a comfy sweater and two best friends, I got everything I could wish for. No magic required." -Perrito (Puss in Boots: The Last Wish)
People start wishing for things at a young age, most beginning with birthday candles. We grow up with the hope that these wishes will eventually come true, even though most of them are imaginary. These dreams give a sense of security which protects children from reality until they are older.
On December 21st, 2022, Puss in Boots: The Last Wish, was released into theaters. The original Puss in Boots movie was a staple in many childhoods throughout the nation. The film's screenplay is by Paul Fisher and Tommy Swerdlow, different from the 2011 Puss in Boots, which Tom Wheeler wrote. 
In the previous movie, the main character sets out in search for the eggs of the fabled Golden Goose, to clear his name, restore his lost honor, and regain the trust of his mother and town. This new movie still stars the infamous Puss in Boots, but there are also new characters featured along with some returning characters as well. We see Kitty Softpaws, the "love interest" of Puss in Boots, Perrito, who is 'therapy dog' for Puss in Boots, and multiple characters from various fairy tales. 
The movie follows Puss in Boots as he journeys to find this mystical "Last Wish" for the Wishing Star by teaming up with Kitty and Perrito. All Puss in Boots wants is to restore his nine lives now that he is down to his last one and doesn't want to die. They must race against Goldilocks and her three bears, and "Big" Jack Horner who also desires the star. Not only does Puss in Boots have to avoid these mythical characters, but he must also try not to be killed by a mysterious hooded wolf. 
The one rule is that you are not allowed to tell what you wish for because it won't come true anymore, also known as the "Birthday Wish Rule." Each one of the characters end up telling someone their wish anyway. Before Puss in Boots can make his wish he is stopped by Kitty, who calls him out for his selfishness, but they are interrupted by two characters named Goldi and Jack. A huge fight emerges between everyone, ending with the map being destroyed along with the Wishing Star, which was said to be many students' favorite scene of the entire film. 
Puss in Boots and Kitty start a new life, and they end up stealing a boat from the Governor and set sail to reunite with some old friends. Even though Puss in Boots didn't get his initial wish, he still ended with everything he could ever want, true happiness. 
When watching Puss in Boots:The Last Wish, it brings back many childhood memories. This film was definitely nostalgic, but also a little bit modernized, which is why it has such a high rating. This movie is said to be "DreamWorks's best movie" (Julian Mize). 
If you're bored and want to watch a movie that will make you laugh, give you a little nostalgia, and that will teach you a bit on the importance of true wishes, give Puss in Boots: The Last Wish a try. You won't regret it!
Leave a Comment
About the Writer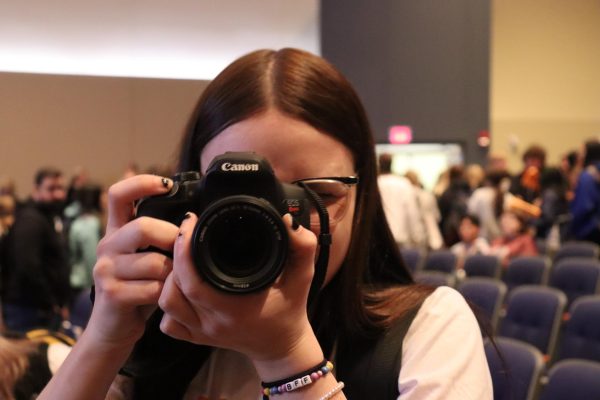 Nevaeh Thetford, Writer, Photographer
Nevaeh Thetford is a senior for the 2023-2024 school year. She has a unique sense of humor and loves make sure everyone around her is in a good mood. Journalism...