The Herrin Community "Meets the Tigers" Ahead of the Spring Sports Season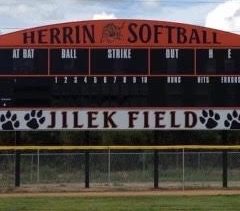 This past week, HHS brought out its spring sports teams and academic groups for another iteration of the "Meet the Tigers" community event.  This gave the school the opportunity to put a spotlight on many of the school's athletes who are competing during the spring semester, some of whom wouldn't usually be seen by the community without the well deserved help of this new event. 
Among the groups recognized were the boys Tennis Team, the Math Team, Journalism, Baseball and Softball, boys and girls Track, and Fishing.  Girls Soccer was also featured, however they were unable to attend due to an away match.  Each group had their members introduced, and each group formed in lines, ensuring that everyone in attendance could see their favorite Herrin High athletes.
Following the introduction ceremonies, those in attendance were also treated to an exhibition game.  The exhibition wiffle ball game between the baseball and softball teams gave everyone a taste of what is to come from both teams this upcoming season.  The two captains were Fox Connor, and Sydney Allen, Senior baseball and softball players respectively.  The game had a lot of offense ending in Allen's team's favor, capped off by an inside-the-park homerun by the Captain herself.   
During and after the game, those in attendance were able to enjoy the perfect assortment of ballpark favorites, with everything from hotdogs and Cracker Jacks, to delicious cookies and other snacks.
The third installation of the Meet the Tigers was another great success for the school and community, and it was a great way to introduce the people to the athletes of Herrin High School.  These students and athletes deserve all of the recognition because of the effort they bring to their respective teams.  With the beginning chapter of the Meet the Tigers events written, it will be great to see how they improve on it in the future, and it will also be great to see all of the students who get recognized for their dedication, on and off the field.
Leave a Comment