The Pink Dress
A rainy day estate sale find turns out to be Herrin treasure.
Friday, October 25 was the day that I had been anticipating for almost two weeks, estate sale day. Now of course, most people go to estate sales to browse the knick knacks, maybe even pick up a vinyl, not me. I could sit for hours going through the mountains of clothing that the late owner has left to the living world. At 9 a.m., there I was, standing on the front stoop of 801 N. 13th St., a modest three story house, with a red brick facade and a screened-in porch. Pouring down rain, I shivered with anticipation. If I knew anything about this estate, it was that it was a hidden gold mine. 
This was the Herrin family home. Being one of the first five homes built in our sleepy coal mining town, and never leaving the family, this home had to be filled with goodies galore. I rushed in at 9:02, not expecting anyone to have gotten to the vintage jackpot, but I was wrong. I enter the bedroom to see dozens of hats, and a mountain of clothing lying on the bed. I spotted a small woman quite literally lying on the pile of clothing. She muttered to me "This is my pile." I was shocked; she had all the good clothing under her. Right then, I recognised her face. It was Betty Williams, a queen to the vintage world of Southern Illinois. I met Williams over the summer when I put some clothing on consignment through her online shop. I was happy to see a familiar face, and relieved to know that everything she had in her pile was going to a good home. I said "oh, hey girl!" hoping she would realize who I was. She looked at me with a blank face for a moment, but then realized that it was me. I knew exactly what her reaction was, it was the feeling of trying to keep drool in her mouth. To me, she was the luckiest woman in Southern Illinois.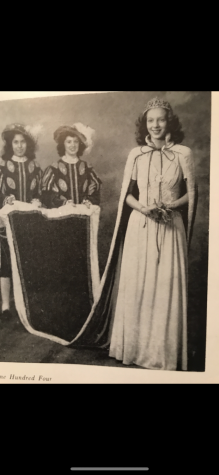 After she came back to reality from the vintage clothes junkie-rush that we all get, we got to talking while gawking over all the amazing things we were finding, name brand vintage clothing from the 40s and 50s, all in almost perfect condition, looking as if they had never been worn. Williams got a large box and filled it until it was overflowing, while she had arms full of clothing, including a pair of white majorette boots and 6 batons from the Herrin High twirlers. Williams had one thing that really caught my eye though, a long, baby pink formal dress, with embroidery and tiny floppy bows covering the bodice. It was beautiful, being aged so well, more than likely shoved in the dark corner of a closet for decades. I was fascinated. What was the history on this dress? 
Later that day, I made a visit to the Williams residence, bringing her a few things to sell, and to get a good look at that dress. At closer inspection, the dress was more jaw dropping than imagined, just gorgeous. Everything about it is a vintage clothing lover's dream. A soft pink dress with the most gentle bows and embroidery around the bodice. Everything about it is perfect. The only part about it that was bad was a slight bit of damage and a few small holes on the left shoulder. Those holes gave me a clue on what this dress was worn for. After dating around the time the dress was made, I did some research in some old Herrinite yearbooks to see if I could find it. Sure enough, in the 1946 yearbook, a picture of Phyllis Granneman wearing the pink dress surfaced. In 1946, Phyllis Granneman won Herrin High School Homecoming Queen while wearing this dress. I sat in shock for a moment; this was Herrin history. I immediately informed Betty, and we both shrieked with excitement over what we had found that day. We both may have drained the bank on that gloomy Friday morning, but everything was sunny in our minds when we walked out of there. The dress now resides in the hands of Mrs. Betty Williams, and will remain there until after restoration. From then its future will be determined.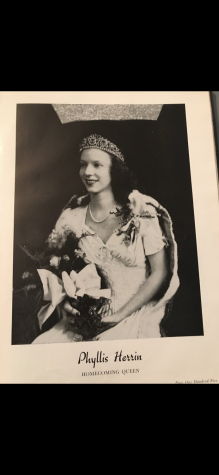 About the Contributor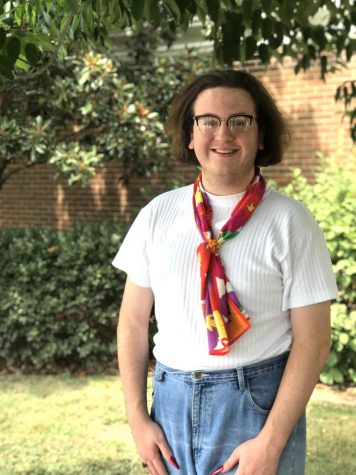 Aaron Elliott, Specials Manager
Aaron is a rambunctious junior with high hopes and tons of ambitions. He is the Specials Manager for the Herrin Tiger Journalists. He enjoys sewing, shopping,...