Pumpkins in the Park
On Sunday, October 27, Herrin successfully celebrated another Halloween with the annual Pumpkins in the Park. Originally, the event was supposed to take place on the day before, Saturday the 26, but it unfortunately got rained out. Thankfully, the park was free on Sunday and the community was still able to enjoy the Halloween festivities. This event is used to bring together the community by organizing something that the children in town would enjoy, while advertising local businesses as well. 
This year, the event was hosted and organized by Property by TLC. Many businesses and organizations participated by setting up booths and handing out candy to the children. The Herrin Police Department came out with a squad car and some treats to hand out, and the Fire Department brought out one of the fire trucks that always entertain the kids. TLC played the movie Hotel Transylvania, gave out free popcorn, set up a straw maze for little kids, and hosted a costume contest. The attendants chose a variety of costumes: spiders, witches, clowns, cabbage patch kids, and more! The contest received popular feedback and is perfect for children of all ages. Young children, and parents both had an outstanding time. 
One local business that set up a booth was Salon Stars, a hair salon in downtown Herrin. While talking about the event, a hairdresser from Salon Stars, Cindy Peters, mentioned, "It was so well organized; so many little children turned out. It was a lot of fun for the Herrin businesses and community." The turnout was amazing and overall everyone seemed like they were genuinely enjoying themselves. One of Herrin High's sophomores, Chesney Cox, attended this function, and it seemed that she had a great time. In a quick interview with Chesney she said, "I enjoyed it very much. I went last year for the first time, and I plan on going next year!" Another student, Jacob Kochan, sophomore, said "I didn't go this year, but next year I hope I can attend. It looked like a lot of fun!" Many of Herrin High's students went to Pumpkins in the Park and had a great time along with the community's adults, which proved no one is too old for some family fun!
Overall, the community had an amazing night thanks to Property by TLC and the businesses in Herrin. Kids of all ages enjoy this tradition, so everyone in town is very thankful for this event. Every year, there is a big turnout with businesses and families. Without a doubt, this will be a tradition that Herrin continues to celebrate for years to come.
Leave a Comment
About the Contributor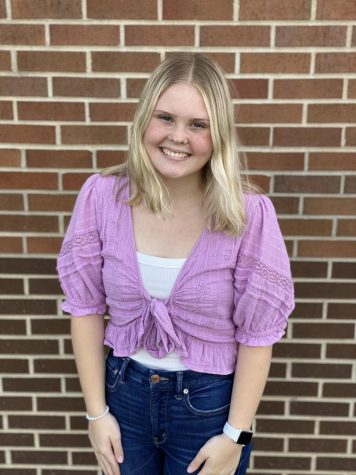 Maddie Jeralds, Opinions Editor, Writer
Maddie Jeralds is a senior at Herrin High School. She enjoys shopping and spending time with her friends. She also enjoys taking long naps.