Homecoming coronation is one of Herrin High School's most popular events of the year. But does anyone truly know what the history of it is? According to antique copies of the Herrin Daily Journal studied at the city library, Herrin High School (then Herrin Township High School), held their first homecoming coronation in 1940 under Principal Eckert. Today, HHS celebrates that very same tradition in a fashion not dissimilar to that of 80 years ago.
The night of November 10, 1940, started with a pep talk by Mr. Cline Crain and everyone sang and danced to the loyalty. After this short pre-coronation program, it was time to announce who the queen would be. That night, a crowd of several hundred townspeople and high school students filled the gym to capacity, and no one knew who the queen was until she was escorted into the gym by Leon Davis, basketball team captain, and crowned by J. W. Sumner, the football captain. Finally, Miss Virginia Eckert was crowned Homecoming Queen. Alongside her, Miss Dorotha Cravens was declared her Maid-of-Honor. The Queen and her attendees were all beautifully dressed in evening attire, and an extensive collection of performances followed, among which was a stunt by the Hi-Y club and an orchestra performance of God Bless America. Much later, Virginia Eckert married a man known as Robert Possehl, the couple then moved to Chicago together and bore a son, Gregg.  All-in-all, November 10, 1940 was the beginning of an 80 year long tradition in HHS history, still in effect today.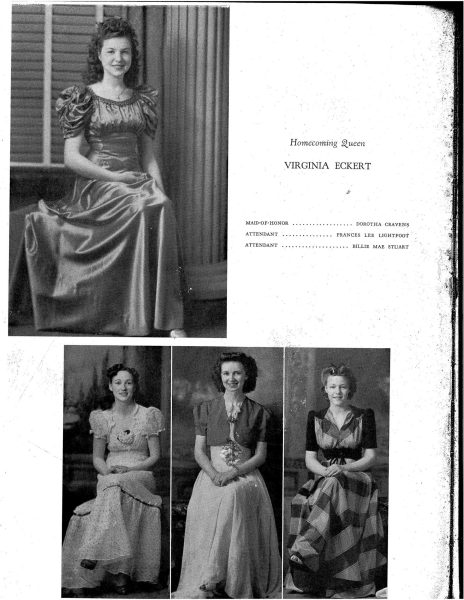 Flashing forward 82 years later, Herrin High School will crown its 2023 Homecoming queen tonight, on September 21, 2023 in the gymnasium. The queen candidates this year are Kamilah Ashmore, Katelyn Biley, Cameron Gwaltney and Piper Price. With this year's theme being Hollywood, royalty contestants are anxious to be selected by their peers in representation of HHS. They will be escorted by members of the fall sports teams, adorned in their finery and prepared to put their best foot forward for HHS. In high anticipation for Homecoming Coronation, Mrs. Stacy Jones, the coordinator of coronation, explained that we celebrate Homecoming because it is a "long-standing American tradition that originally celebrated alumni visiting their alma mater during football season. It has since been more of a celebration of the beginning of the football season." According to Mrs. Jones, the Homecoming Coronation is exceptionally important as "Herrin High School is known for their unique coronation ceremony. We have an entirely separate night for coronation and it is traditionally choreographed. During coronation, our senior participants have the opportunity to recognize their parents or families' commitment to their high school career." There will be a dance to a song performed by our band, directed by J.T. Lewis, and sung by our chorus director, Jene Simmons. The high court escorts are all part of the varsity football team, and a fan favorite is their entrance performance entirely orchestrated by the players. She also stated that "To many Herrinites, coronation is about continuing tradition and that is what we plan on doing this year." 
With the knowledge of Homecoming's past at Herrin High School and the information regarding its place here today, students can anticipate nothing more than a splendid Homecoming and the start of a great year here at HHS!