On September 9th, I had the pleasure of dining at Mike's Drive-In, one of the hidden gems of Southern Illinois.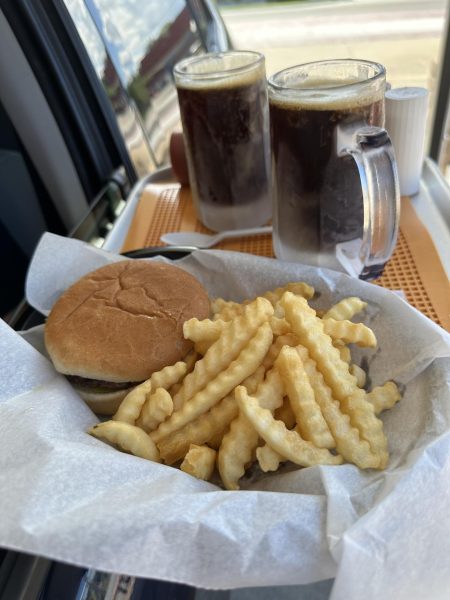 The most obvious difference from a normal restaurant is that they serve you at your car. Despite this, the service was still wonderful as we received our meals quickly after ordering even though it was a busy Saturday afternoon. If you'd prefer not to eat in your car, they also offer regular seating indoors. Although, eating in your car is necessary in order to get the full experience of a drive-in restaurant. 
However, service is only part of it. What really matters is if the food is any good, and boy is it good! I went with my family and we all greatly enjoyed our meals. I had a double cheeseburger that came with a side of fries. It was one of the best burgers I've had. The main attraction is their homemade root beer. My personal favorite way to enjoy their root beer is in the form of a root beer float. Their homemade root beer, combined with the delicious ice cream, makes for a treat you'll keep returning for. The icing on the cake is the menu is all priced reasonably, especially when you compare it to restaurants that aren't half as good. Despite the pricing, the food is still wonderful.
Overall, Mike's Drive In is a unique restaurant that is a hidden gem here in Southern Illinois. It is a highly reviewed place on Google Reviews, with over 500 reviews and an average of 4.4 out of 5 stars. Despite these high reviews, very few students have heard of the restaurant. In a survey of 10 students, 60% had never heard of it, 30% had ever heard of the restaurant, and only 10% of the surveyed students had ever eaten there. Mike's Drive-in can be found at 1007 W Main St, West Frankfort, IL, and I highly recommend you visit the restaurant as soon as you can. Overall, I would have to give the restaurant an 9/10 for the quick and polite service, excellent food, and unmatched pricing.