Bringing Home the Beat
On Saturday, October 15, nine flag team members and the dance team captain traveled to Bloomington, Illinois to take part in Start the Beat. Start the Beat is a competition offered by the Illinois Drill Team Association that allows competitors to engage in dance and flag events.  This event offers a chance for competitors to automatically make it to state, causing the stakes to rise amongst mainly the seniors. After making it to the venue and preparing, the flag girls had to do their signature chant "FTOD" for good luck, kicking the day off right.  
Adriana Spruell, the sole senior of the dance team, started off with her solo to "Fever" by Beyonce. Since she has now competed against 12 other seniors, she is confident the dance team along with herself will make it to State. 
Starting the flag team off strong, Jenna Sissom, team captain, wowed the judges with her senior solo to "Maneater" by Nelly Frutado, aquiring second place for her team. Next, Diamond Kirk followed Sissom with her first event as a flag team member, her senior solo. Kirk was "excited yet sad" about this being her last first competition as a senior, but she excelled, getting fourth place. Following the senior's footsteps, the juniors took the floor. Mia Bangs commented that "the best thing was the adrenaline rush before performing." Bangs proceeded to win first place with her routine to "Me Too" by Megan Trainor. Allison Swiatkowski performed to "I Won't" by Little Mix and was able to attain second place, capping off the junior solos. 
Following the successful solos, the girls compelled the judges with their duo and trio numbers. Opening the duos, Jonkyra Love and Haleigh Absher accomplished their first event of the season to "One Kiss" and made the judges fall in love with them, starting the duets right by taking first place. With Allison and Mia's tight-knit friendship, they performed "Heavy in Your Arms" with so much emotion that the judges had to give them first place, securing another win for the flag team. Rylee Rady, Savannah Knoob, and Addison Parker were able to captivate the judges with their trio to "Sorry Not Sorry" and took first place again, making the upperclassmen proud. Finally, Bangs, Sissom, Swiatkowski performed their varsity trio to "Running With the Wolves" and ended the day with yet another first place win. 
After a successful weekend, Sissom was able to reflect on how she "really has faith in this season" for her team. Rady, a freshman, was in awe of her first competition and felt proud of how she did in her trio. Rady emphasized her excitement in completing her first competition, since she had "wanted to be on the flag team since third grade." 
The flag and dance teams are very excited for the rest of their season, and hopes are high for future competitions.
Leave a Comment
About the Contributor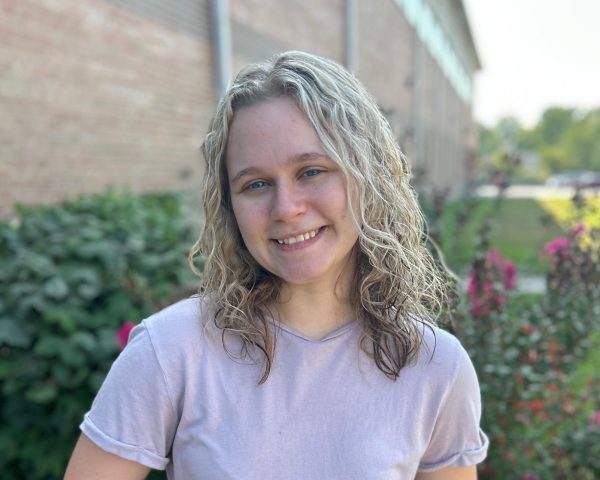 Mads LaBotte, Writer, Photographer
Mads LaBotte is a senior for the 2023-24 school year. She plans on using her journalism in school while majoring in chemistry during college.