Brady's "Unfinished Business" Puts a Dent in the Champ's Retirement Plans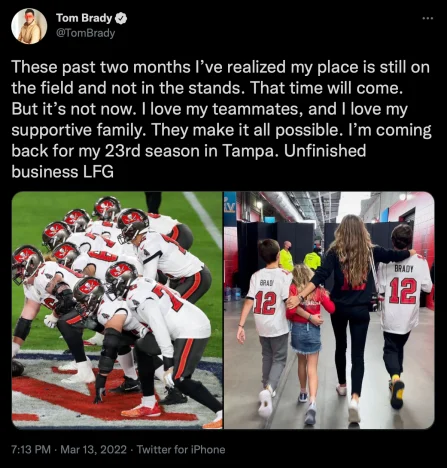 With forty-two days removed from the end of the football season, the consensus G.O.A.T. to many fans around the world announced that the last chapter of his career wasn't done just yet.
Brady recently said on Instagram, "I'm coming back for my 23rd season in Tampa. We have unfinished business."  
This statement comes as a surprise to many as fans were still saying their goodbyes and sharing memories of one of the greatest quarterbacks in NFL history. Tom Brady rubbed many people the wrong way by citing "unfinished business" as his reason for a return to the field. Brady, a multi-time Pro Bowl member, Super Bowl Champion, and Perennial MVP is often criticized for always coming out victorious.   
Tom Brady is one of the most decorated quarterbacks in NFL history. The question is, however, how will this affect his legacy? Can he deliver again in the clutch? If Tom Brady does not get it done this season, will people only remember this comeback as meaningless? I recently asked a few members of Herrin High about their thoughts on Tom Brady, and, not surprisingly, people's opinions were split. Luke Hileman gave his take on the matter, stating "He should have stayed retired. He has enough rings and doesn't need anymore." Grant Ellet had a different outlook, saying "He will still be a dominant force in the league but the Saints will shut them down." On the other end of the spectrum, Tyler Worthen was joyful about Brady's comeback, confirming that he is "ecstatic" in hopes that he wins another ring.  
Tampa Bay's quarterbacks' coach said in a recent interview, "The first thing he said was he didn't want to go out that way. He wanted to make sure we do everything to win it all next year." Brady convinced the Bucs front office to extend players like Ryan Jensen, Carlton Davis, and Aaron Stinnie. They even used Brady's presence to acquire star Patriots guard Shaq Mason.
We can safely say that all eyes will indeed be on Brady's performance this season whether it is truly time for the G.O.A.T. to hang it up or not.
Leave a Comment