Back Behind the Net
Lady Tiger Tennis storms the courts ready to make this season one to remember.
Grab your racquet and get ready for Tiger Tennis! The girls have begun their season and have a long way to go. The season kicked off on August 23 with a match against Flora. Since then they've played four other matches and have many more to go. Although the team hasn't won any matches yet, they remain hopeful for the rest of the season. When asked about the transition back into the new season, senior Presli Karnes stated that the girls have had no difficulty shaping up. The coaches have been working hard to get the girls ready and prepare them for the upcoming season. 
In preparation for the season, the girls have been refining their techniques and striving for perfection. Karnes adds that the chemistry between the team is great and that the girls love seeing each other and working together towards one common goal: winning.
So far, the girls have each been making great advancements. Freshman Keirsten Killman is 3-2 with wins over Centralia, Waterloo, and Marion. Sophomore Jersey Summers and junior Gwen Weldon have picked up great wins against Marion. Senior Presli Karnes and Jersey Summers have also achieved a quality win over Waterloo at #1 doubles.
The team has also been practicing as much as possible to bring their 'A' game to every match. Karnes shared that her hopes for this season are to win as many matches as possible and to advance to state. The team looks forward to making the most of this year's season. With more matches to come, the team will continue to work hard and give their best effort at every chance.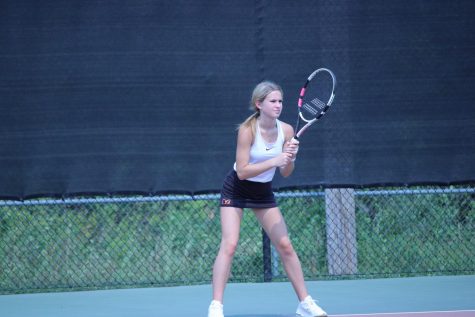 Leave a Comment