Illinois Music Conference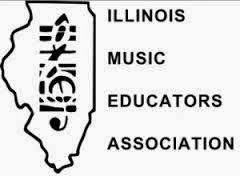 On October 14, a few selected musicians from Herrin High's music department were chosen to audition for IMEA's annual Illinois Music Conference. The auditions were held at Mascoutah High School. Each competing student was given a certain time to play in front of several different judges. Each audition takes about ten minutes overall. 
During their auditions, the students were required to play an arrangement of different scales, sight-read, and play a song. If the musicians exceed at the audition, they are given an opportunity to play in their district's band at a music festival following the auditions.
There are nine total districts separating Illinois, and Herrin High School is part of the sixth district. About 400 students from Herrin and other schools audition for the chance to play in the sixth district's band. Out of these 400, only 100 people are asked to play in the band. At this festival, the chosen musicians rehearse all day and give a concert open to the public the same night. 
Following this event is another process of elimination. Certain students from each district band are chosen to perform at another music festival at the state level. 
Mr. J.T. Lewis, conductor of Herrin High's band, prepares the auditioning students a year before the actual event to give them plenty of time to practice their songs. "I give each of them their music about a year in advance to start working. After they learn the music, they each play for me and I help them from there," says Lewis. He continues by saying that "the music is super hard and I want them to have enough time to prepare themselves." When asked how he felt about competition in the area, he responded by stating that "Herrin is one of the smallest schools that participates, but I believe the students I take have very excellent playing abilities." 
Despite how the students perform at auditions, he still feels as though it is very important to take part in this event because "it helps them practice and become better." While there are no requirements needed to participate, he tries to take kids who he thinks "could have a strong future in music." Overall, Lewis states that his favorite part of the event is "seeing the kids improve and watching them learn the materials and grow more comfortable as musicians." 
Altogether, Herrin High is proud to support these musicians in their adventures. The students selected to play with the band will give a performance on November 2 at Southern Illinois University.