The Run is Done
The cross country team takes on a more difficult competition
The Boys and Girls Cross Country season has come to a close. On October 17, the team traveled to Harrisburg to compete at the S.I.R.R. (Southern Illinois River to River) Conference Cross Country Championship. 
The girls team ran the course first scoring 56 points. On their side, Herrin had three individuals who were announced as All-Conference placers. With Charli Elliott (12) placing seventh, Ella Deere (10) placing ninth, and Briley Engram (9) placing 10th, they helped bring the team to second place and were awarded medals for placing in the top 10. Other runners included Tiffany Young (12) placing 14th, Madison Varner (10) placing 18th, Ainsley Farmer (11) placing 27th, and Madison Knight (11) placing 29th. Without having any training, Knight and Farmer raced in the varsity race to help the team score points. "It was challenging, but the feeling after I finished the race was definitely worth it. I was happy to help, and it gave me a new perspective of everybody on the team's daily lives," Farmer said. Without a doubt, every girl ran on the edge. 
Afterwards the boys stepped foot on the course. Together, the boys managed to place second with 56 points. Ruben Pullum (10), Riley Chrostoski (10), Merrett Simpkins (10), and Keaton Rosado (11) were all announced as All-Conference Placers with Pullum placing fifth, Chrostoski taking sixth, Simpkins coming in eighth, and Rosado finishing in 10th. "Placing in the top 10 felt good, because I have been putting so much time and effort to do well; I've finally achieved my goal," said Chrostoski. Also competing in the boys varsity race was Lance Mattingly (11) placing 11th, Cameron Christ (9) taking 12th, and Andres Diaz (12) coming in 13th. These boys surely stuck together as a team. 
The varsity team then went to Alhambra to compete in the I.H.S.A. (Illinois High School Association) Highland Regional on October 26. While the girls did not have enough participants to score points, Elliott placed 44th, Deere took 50th, Engram came in 53rd, and Varner finished in 57th. "It was a bittersweet moment for me. Knowing that I have completed eight years of cross country is an accomplishment that I'm very proud of, but knowing that all those years of training are over is definitely sad to think about," Elliott said reflecting on her last race.
The boys team however, scored 223 points, putting them in eighth place. Pullum placed 25th with a time of 17:27, advancing him to sectionals. Other placements included Chrostoski placing 48th, Mattingly finishing in 49th, Diaz taking 51st, Rosado placing 60th, and Christ coming in 61st. "It was for sure a race I'll never forget," said Diaz. 
On November 2, the Cross Country season officially came to a close as Pullum raced in the I.H.S.A. Decatur MacArthur Sectional. Pullum raced three miles and finished in 102nd place out of 140 competitors. "I wanted to do better, but now that I know more about it, I am much more prepared for next year," Pullum said with determination for the next season. "Advancing to sectionals was one of the best feelings I've ever had. I've been preparing for that moment since fourth grade, so it took a lot of hard work and effort to get there," Pullum stated about his victory. 
Leave a Comment
About the Contributor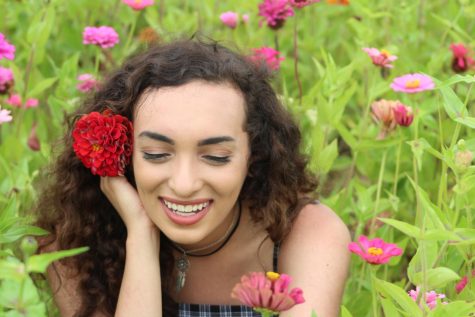 Tiffany Young, Lead Photographer & Photography Editor
Tiffany Young is a senior at Herrin High School. This is her third year in the journalism class. She is the lead photographer and photo editor for the...