State-Bound
Hot summer days that were spent working hard on the courts by the Girls Tennis Team paid off well for many at this year's sectionals.
The Varsity Team competed at sectionals, held at the Herrin Sports Complex on October 14. The six girls from the team who played that day were Kelby Weber (11), Breanna Nesler (11), Jaylan Blake (11), Alexis Jordan (11), Karlie Hale (11), and Hayley Franklin (11). There were two doubles teams: Weber and Nelser together, and then Blake and Jordan. The two singles matches were Hale and Franklin. 
The number one doubles team from Herrin, Weber and Nesler, played hard to win their first match against Waterloo with the scores of 6-0 in their first set, and 6-2 in their second set. Then, they won their second match, 6-0, 6-2 against Marion. This was a great deal of excitement, because after they won two matches, they became qualified for state! They were the only ones from the team who qualified, but the other girls still played their very best. Blake and Jordan lost their match to Waterloo, who won with the scores of 6-3 and 6-0. Although they didn't win, those watching could tell that they had played very hard and they still did a great job. Hale versed a girl from Fairfield in a singles match. She won her first match by 6-2, but then in her second match, her opponent won that set with 6-1. So, then they had to go into their third set which was the tie-breaker. Hale fought her way back and won her third set, 6-4! Since she won that match, she then played another, and this one was against Carmi. Sadly, she lost this match 6-2, 0-2. Franklin played in the other singles match; hers was against Mt. Carmel. She lost 6-1, 6-3. 
Coach Matt Snell was asked how he felt about Weber and Nesler going to state and he replied, "It's good competition for them to get better as players, and it's also good experience for them to see that kind of action at the state level."
After speaking with State Qualifiers, Kelby Weber and Breanna Nesler, they were both asked about their first reaction to qualifying, and both of them stated that they were excited, and they hope to do well. When Weber was asked if she feels prepared for state, she responded, "Yes, I feel prepared. We put lots of hours into tennis; we feel ready for a challenge." Bre excitedly said, "Yeah–I'm ready…and very excited!"
About the Contributor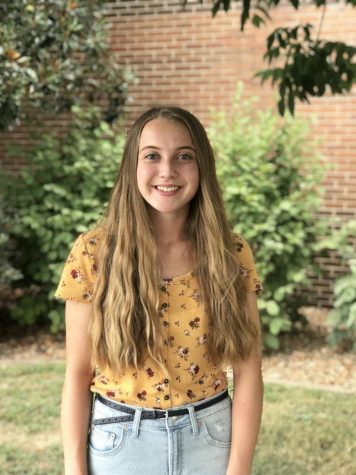 Hayley Franklin, Writer & Photographer
Hayley Franklin is a junior at Herrin High School. This will be her first year in Journalism. She is on the tennis team and the flag team.  Some of her...