Herrin/Carterville On Path to Record-Breaking Season
The boys have proven themselves the undeniable leaders of the pack
As the Herrin/Carterville Co-op continues to dominate the competition, they have set their sights on this year's State Championship. With a cumulative record of 12-1-1 for the season, the boys have proven themselves the undeniable leaders of the pack. Caleb Knight is leading the team with 19 goals this season, with Jake Baumgarte only one goal behind him at 18. While the offense has certainly pushed us to the top, the goal-tending has kept us there. Mitchell Cagle has limited the total goals against him to 10 for the season, while accumulating a total of 51 saves so far. 
Their only loss of the season remains to Father McGivney Catholic, in a second overtime. The single tie recorded comes from the Anna/Jonesboro game, which was called due to lack of light on the field. The boys have continued to show dedication both on and off the field, proving that a group with a winning attitude can do impressive things when they work together. Averaging 4 goals per match and finally breaking into the Top 100 in the state, this team is surely setting themselves up for a memorable year.
Due to a cancellation from the Murphysboro High School, the boys will have cleats on our home field October 10 against Christ Our Rock at 4:30. Come out and cheer them on; they're sure to put on a remarkable show! 
About the Contributor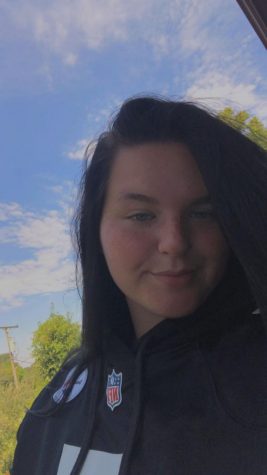 Aubree Williamson, Writer, Photographer
Aubree Williamson is a sophomore and this is her first year in Journalism. Her favorite color is blue and she loves watching Tik Tok. She also likes to...