Spirit Squads Take on State
The Herrin High School Dance and Flag Teams End Their Seasons on a High Note
The dance and flag teams competition season has officially come to a close. The girls all traveled to Springfield on February 8th for the 40th annual I.D.T.A. (Illinois Dance Team Association) State Competition held on February 9th.
Seniors Cecily Smith and Allison Berry both performed their flag solos on the state floor. Berry placed fifth and Smith placed first and was named Miss I.D.T.A. flag for the second year in a row. "Knowing that I'm the first person in the organization's history to be named Miss I.D.T.A. Flag twice is extremely humbling and exciting. I am so grateful for the opportunity to have been able to showcase my love of performing last year, and I'm thankful for the recognition and support given by so many people" said Smith.
The flag team as a whole competed in the AA Tall Flag category against Jacksonville and Mahomet Seymour and won a first place championship title. They also competed in the AA Lyrical Flag category against Jacksonville, Mahomet Seymour, and Charleston high schools and placed first again!
The dance team competed in the AA Pom category against Mattoon and Lincoln and placed third. They then competed in the AA Hip-Hop category against Centralia, Rich South and Jersey placed fourth. "I felt a slight relief knowing I wouldn't have to go through the hassle of having to go to regionals in order to qualify just to go there and no longer having to put hours into practices," says senior Paige Wieland, "but extremely sad that I'll never get to do it again. Dance is something that I have always done and is sort of what I am known for. I always knew it'd come to an end, but I never knew it'd be so quickly. All in all, my last state competition is one I will never forget. It was a bittersweet moment for sure."
During judges break, sophomore Rebecca Wilson performed an exhibition solo for earning the JV flag grand champion title in October. Smith also performed her flag solo again as an exhibition for earning the varsity grand champion title earlier in the season.
At awards, Smith, Tiffany Young, Shanie May, and Wieland were all recognized for earning Rising Star awards this season. "I felt honored to be someone on my team who stood out enough to the judges" said May. Many were also recognized for being scholar athletes.
When the dance and flag teams traveled back to Herrin, they were awarded with a parade escorte by the Herrin Fire Department and Herrin Police Department in honor of their achievements made this year. The hours they all put into practicing in the past nine months have finally paid off, and although it's sad to tell the seniors goodbye, it's always exciting to celebrate another winning season!
About the Contributor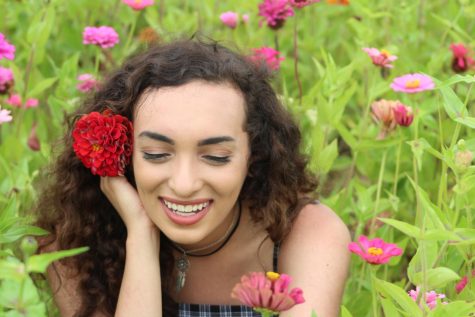 Tiffany Young, Lead Photographer & Photography Editor
Tiffany Young is a senior at Herrin High School. This is her third year in the journalism class. She is the lead photographer and photo editor for the...