Dancing Their Way To State
The HHS Dance Team Continues Improving as They Prepare for the State Competition
The Herrin Tiger Dance Team started practicing their competition routines in the Summer. Ever since then, the team has been focusing on improving their routines so they can qualify for state. The girls kicked off the competition season by performing at the I.D.T.A (Illinois Dance Team Association) regional contest at Herrin High School on December 1st. The girls took their facials onto the floor and performed a hip-hop routine to "Snap your Fingers" by Lil Jon. It was announced at awards that Paige Wieland won a Rising Star Award for receiving recognition for her outstanding performance, it then was announced that the Herrin dance team placed first in their hip-hop routine.
The second competition took place at Belleville Althoff the following week. The day started off with seniors, Mollie Cline and Wieland, performing their solos. "Performing a solo was a moment that I wanted to experience for a long time. There is a lot more pressure on me than performing with a team because all eyes are on me and the focus is only on me. On the other hand, performing with a team has less pressure because I'm not the only one dancing. Though I loved doing both, I got to show my own personality through my solo" said Cline. Soon after that, the team performed hip-hop then stepped out on the floor and boldly performed their pom routine for the first time.
At awards it was announced that Cline placed third in her solo and Wieland placed fourth in hers. The team together placed first in pom and hip-hop!
After another week of practicing, the girls had taken some time to step up their performance level. On December 15th, the team performed both, hip-hop and pom at Belleville East. The girls placed second in the hip-hop category and first in the pom category. They also received a state-qualifying score for their pom routine!
The team then took some time off for Christmas break. Once they came back together in the new year, it was go time. To kick off 2019, Wieland and Cline both performed their solo routines on the Marion gym floor. The team then performed their pom and their hip-hop routines. With her killer facial expressions, Shanie May received a Rising Star Award for receiving recognition for her outstanding performances. It was later announced that the Herrin Dance Team received their first state-qualifying score for their hip-hop routine and another state-qualifying score for their pom routine! Together, the team placed first in hip-hop, first in pom, and fourth in the I.H.S.A (Illinois High School Association) category. January 12th was surely a day to remember! The team then advanced to the I.H.S.A sectional in Mascoutah on January 19th. They performed their pom routine and placed 10th out of fifteen teams.
The dance team continues to improve their skills every week. To prepare for future competitions, they practice twice a week for three hours straight and condition themselves by doing cardio workouts. It's no joke when they say they want to win a state championship title! They will be going to state on February 9th and they hope to bring home the gold.

Hang on for a minute...we're trying to find some more stories you might like.
About the Contributors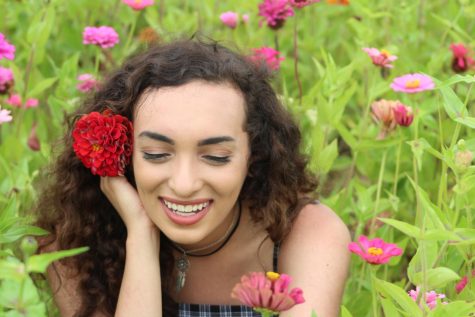 Tiffany Young, Lead Photographer & Photography Editor
Tiffany Young is a senior at Herrin High School. This is her third year in the journalism class. She is the lead photographer and photo editor for the...