For the final week of thrilling September books, the last book will have students on their toes and squirming as they read. 
For Week 3 of September, this week's book is The Initial Insult, by Mindy McGinnis, was published on February 23rd, 2021, and the sequel, The Last Laugh, was published the following year, on March 15th, 2022. 
The Initial Insult follows two high school friends who had a falling out. The two girls attend a Halloween costume party at an abandoned house. Unknown to everyone upstairs, Tess is slowly sealing her old friend Felicity, brick by brick into a coal chute, prying the truth as each one lays. With a possible murder taking place in the basement, a sick, drunken party upstairs, and a wild panther on the loose, readers are in for an interesting ride.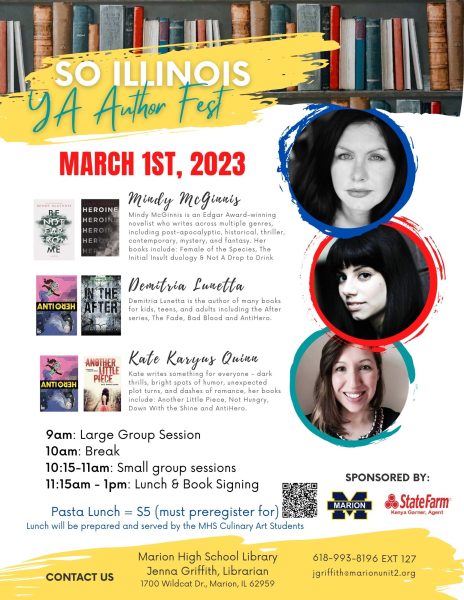 During the school year of 2021-2022, the Herrin High School Book & Cinema club took a trip to Marion High School where they had an author meet and greet. Mindy McGinnis was the sole author there. She went into a deep dive into each of her books, did a Q&A, took pictures, and signed her books. In each book she signed, Mindy left a quote or message in correspondence to the respective book.
 The following year, the 2022-2023 school year, all of the Library Workers went to Marion High School where they met with Mindy McGinnis, Demitria Lunetta, and Kate Karyus Quinn. There they had a large group session with all three authors and the multiple schools in attendance. Afterward, the authors took a few minutes to sign books and make small talk with students there. For the next hour, the Herrin students in attendance and a few Marion Students, along with the authors had a smaller and more one-to-one Q&A Meet and Greet, answering more in-depth questions. Shortly after 11 o'clock, the groups and authors took a lunch break, allowing students to take a break and take pictures, and buy more signed books.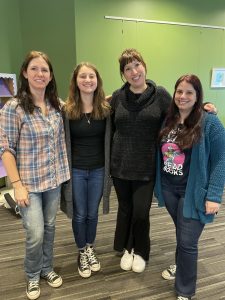 Mindy McGinnis writes many post-apocalyptic, historical, thriller, contemporary, mystery, and fantasy. Although her fantasy books have been perceived as less popular than the rest of her published books. She has released a new novel just about every year, with her first novel, Not a Drop to Drink, being published on September 24th, 2013.
Mindy McGinnis is an author to be noticed, with many enjoying her writing and personality as a whole. The Initial Insult is a toe-curling, grotesque, mystery to be enjoyed by many.
Additional information about Mindy and her books can be found on her website at https://www.mindymcginnis.com.