The first month at Herrin High School has already started off with a new assortment of opportunities for everyone involved. 
Frosh Fest was a fun event that introduces freshmen to high school life without throwing them into the deep end. It was a success, and the freshman class left feeling prepared and ready to start off the school year. 
 Student government gave student-led tours in order to really capture the elements of the school that teachers might miss. An important speech was given by Mr. Anderson to cover everything within the student handbook, so students would not start the school year off on the wrong foot. The clubs and activities at Herrin High were also advertised to encourage freshmen to remain active in the school and community through fun extracurriculars. 
During these activities, the freshmen really got to understand themselves and the school better. Josie Brandon (9) has taken this advice by joining volleyball. Josie's parents "always make sure [she] is on top of [her] work and help [her] a lot". 
Boot camp sessions also start off with the school year, and they taught the new freshman common respects and courtesies that are unspoken rules in our halls. Each boot camp section had groups of student government students who had put together an activity or slideshow of how to be a good student at Herrin High School. 
While the freshman attended these boot camp sessions, the other students went to the gym to hear about changes to the rules and to review the student handbook. Sophomore José Mendez mentioned how he "definitely [felt] a lot more established than last year." He insisted that "you get more comfortable the more you are here," and explained that he had first hand experience with boot camp customs.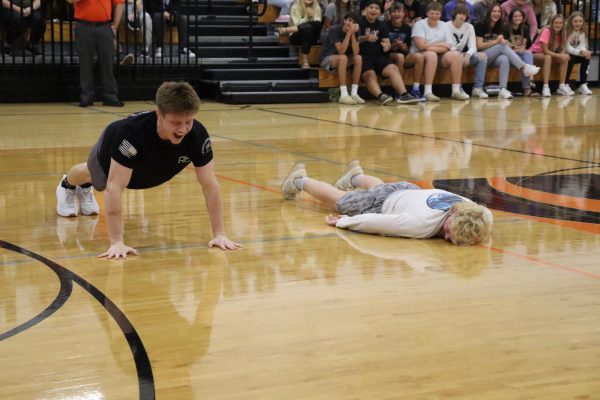 Following a week of learning rules, students were in the mood to do something fun; and there was no better way to do that than have a back to school pep rally. The pep rally included routines from each spirit squad, explanations of what it takes to be a tiger, and a push-up competition. 
Multiple people came down to the floor to compete against vice principal Mr. Anderson. At the end of the tournament, Blue Bishop (12) and Luke Smith (12) were the last two left standing; Bishop ultimately won and received numerous accolades from the crowd. 
This pep rally not only broke up a week of behavioral engagement but academic as well. Junior year causes stress for a lot of students, but Saylor Ray (11) mentioned how she thinks sophomore year will definitely be "harder than junior year" but reiterates that with organization and punctuality, it won't be so bad. Having a splash of fun to start off the year helps bring in more school spirit and motivation.
One of the final events that wrapped up the first week of school was the Fall Meet the Tigers event. Each fall sport and activity got recognized at the football field, before the  football players and cheerleaders played games to heighten excitement for the fall sports. 
This was a huge event to start the school year, but it is also the last fall Meet the Tigers for the seniors. Michael Cagle (12) reflected on how these "lasts" are sad, but he is excited to "get out and make more friends."
The first week of school is always stressful, but with a fun year planned, there are still plenty of things to look forward to.