Students Come Together after Emotional Speech
"I got you."-Terrence Talley
Two weeks ago at HHS, we had a motivational speaker named Terrence Talley. Talley took every student and staff member through various emotions during his speech. Talley was very bubbly and energetic, he was able to entertain the whole high school with his words and performance. Talley introduced his speech by bringing teachers down to the floor and having them perform for the school as an icebreaker. These teachers broke the ice by dancing for the whole school. Mrs. George was one of these six teachers who danced like nobody was watching! Mrs. George said she enjoyed the experience and said, "something that he said related and stuck to a person." Mrs. Thompson performed alongside Mrs. George and felt the same overall about that Friday morning. 
Another memorable part of Talley's speech was his skydiving experience story. Madi Kerrigan, a student at Herrin high school, said "I liked it when he talked about his skydiving experience. His impressions and storytelling are entertaining but at the same time convey an important message." Since Talley's speech was so varying in emotions many students felt different things. Kerrigan said, "I felt very sad when he mentioned the elementary student that talked to him about his family issues. It was very eye-opening to see how many of my peers were personally affected by his message." Another student had a different opinion, Adriana Spruell said, "It personally made me happy to know that if I had a problem I could talk to people and I'm not the only one going through things." 
Ms. George said that she was moved by seeing many students crying and comforting each other during this presentation. Ms. Johnson, the librarian at HHS, said the most emotional segment was the last story he told. Talley told an emotional story about a man saving his two daughters after a storm rolled in while his daughters swam in the ocean. Talley uttered his most memorable line, "I got you." This line was what he wanted everyone to remember. He wanted his audience to remember they are never alone. Mrs. George described it as, "there is always someone rooting for you in your corner." Overall students and teachers felt this was a beneficial experience for Herrin High School students. Kerrigan said, "Yes! I believe the school benefited. For those who did not benefit from the emotional aspect, the presentation had interesting storytelling and jokes that could appeal to everyone." Spruell commented, "Yes, because I think people realized how people have problems at home, and knowing that the students will have each others' back will make the students and teachers grow stronger." Ms. Johnson said she felt students learned from the experience but she wished the school would have offered to counsel students who were hit so hard by his words. 
It had been four years since Talley had first come to the Herrin district to talk to students of all ages. Talley said he was happy to be back and thoroughly enjoyed his time talking to the Herrin students. Talley's presentation was very eye-opening and beneficial to the students and teachers at HHS. Herrin is hoping to have him back soon because every speech he tells is a new experience!
Leave a Comment
About the Contributor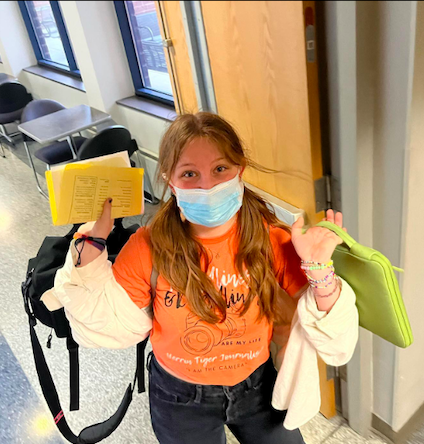 Dani Patalano, Photography Editor, Writer
Dani Patalano is a junior at Herrin High School, this is her second year as a Tiger Journalist. She joined journalism to learn more about photography and...