Christkindlmarket: International Christmas Market Trip
Most people would not put riding a train at 3 in the morning on their bucket list, but the Christkindlmarket is a spectacle that makes the early morning worth it. The Chicago Christkindlmarket began in 1996 as a way to promote bilateral trade between Germany and the USA, but it became so popular that it continues to bring Christmas cheer to this day. Multiple vendors set up around a certain area to sell certain items and foods; the vendors can be locally owned or come from places around the world such as Germany or India. 
Mrs. Stanley and Mrs. Taylor, who both sponsor their respective foreign language clubs, decided to bring some of their students on a trip to the Christmas market to experience different cultures and create an unique adventure for each student to partake in. To start the day off, everyone had to wake up bright and early to catch a train ride to Chicago. Mrs. Stanley took two of her French III students, Sophia Camarato and Mads LaBotte, as well as an Italian foreign exchange student, Arianna Paraluppi. Mrs. Taylor brought two of her German club students, Drake Crozier and James Wright, along with Mexican exchange student, Dany Pantoja, and previous Herrin exchange student, Noni Nichanart. While the train ride was long and exhausting, the rush of cold wind woke everyone up as they walked into the station. 
Without a car to drive around in, walking was crucial to get from one place to another. While walking, multiple pieces of artwork could be seen from the streets such as Calder's Flamingo and Cloud Gate, more popularly known as "The Bean." Sightseeing was wonderful, but after an intense amount of walking, everyone began to get hungry. The first stop of the day was the Nutella Cafe Chicago; in the cafe, many different Nutella products and types of food were sold such as Nutella danishes and Panzanella. After a chocolate-y breakfast, everyone once again got bundled up to walk to the main event: the market itself. 
The market was full of people, smells, sounds, and feelings that pulled buyers in straight away. Each vendor had their own unique selling point, whether it was French cuisine or a spine-chilling Krampus mask. Beautifully crafted pieces of wood and hand-blown glass ornaments were among the displays of cultures. Dany Pantoja bought two beautiful glass candlesticks and Mads LaBotte purchased honey bears from a local bee farm. The food was also a huge part of the fair, some being homemade chai, macarons, and potato pancakes which were all very popular for everyone to grab.  "It was very authentic even if it was a bit small," Mrs. Stanley remarked while mentioning that she had seen similar ornaments on her trip to Europe this past summer. While no one wanted the fun to stop, lunch reservations had to be met, and the teachers and students walked to their next stop for lunch. 
The group made their last official stop of the day at an Italian restaurant named Giordano's; everyone was excited to chow down on some food for the first time since earlier that morning. Arianna Paraluppi ordered the Italian beef and reviewed it with "We do not have beef in Italy, but I liked it." Others ordered spaghetti, pizza, and chicken parmesan to fill their stomachs up.
After hours of laughing and enjoying themselves, the teachers and students decided to finally make their way back to the train station for another five hour long train ride. Although the day was long and exhausting, all good things were heard throughout the day and even the next couple of days. Mrs. Stanley commented on how important different cultures are and how, "It's also fun to immerse ourselves in another culture by attending authentic events like the German Christmas Market in Chicago." The Christkindlmarket has a certain atmosphere that can bring people and cultures together to celebrate one of the biggest holidays of the year in a fun and spectacular way; it was an experience to remember in the hearts of everyone who went.
Leave a Comment
About the Contributors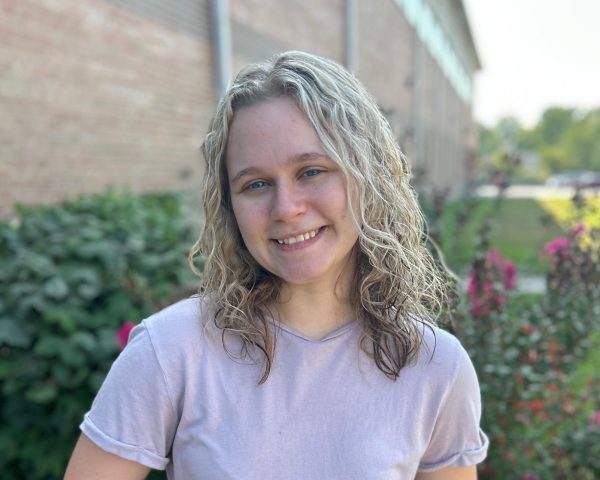 Mads LaBotte, Writer, Photographer
Mads LaBotte is a senior for the 2023-24 school year. She plans on using her journalism in school while majoring in chemistry during college.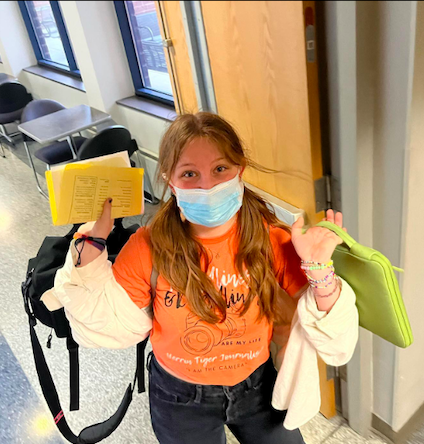 Dani Patalano, Writer, Photographer
Dani Patalano is a senior at Herrin High School, this is her third year as a Tiger Journalist. She joined journalism to learn more about photography and...