Out of the Woods
Taylor Swift's New Album is Full of Woodsy Elements and Amazing Storytelling
From country to pop, Taylor Swift's catchy lyrics and gorgeous instrumentals have made her one of the best artists of this decade. Her new album, Folklore, takes Swift's music to a new level, changing up her usual style but still keeping some of her older music in mind. 
This album, written during the quarantine, gives off a very woodsy, folky feel, keeping true to the album name. The strong piano throughout the album keeps the songs tied together, but there is quite a variety in each song. Her single "cardigan", one of the first songs on the album, starts off strong, and introduces one of the stories Swift is telling throughout the album. Three songs on the album, "cardigan", "august", and "betty", seem to tell the story of a teenage love triangle. The songs, each narrated by a different member, tell the story of a young couple, James and Betty, as James cheats on her and wants her back. Songs like this and "last great american dynasty" are great examples of Swift's talent for storytelling. 
Some of her more personal songs on the album, like "mirrorball" and "mad woman", show a very vulnerable side of the artist. These songs show how much people's perceptions of her affect her. Though she may not let it bring her down, it is always there. These relatable songs are perfect to just sit and listen to, fully appreciating their depth and meaning. 
My personal favorite songs on the album are "august" and "invisible string". Though named after a summer month, to me, this song is perfect for fall. Driving by the orange and red leaves of trees, a breeze coming in from the windows, this song is exactly that feeling. Another beautiful song on the album, "invisible string" stands out the most to me. It changes from the piano in the previous songs to an interesting progression of strings. This song feels light and airy, but hits you with perfect lyrics that spark plenty of emotion. 
I recommend everyone listen to this album. Many people have preconceived notions of Taylor Swift as being just a pop artist or only writing break up songs. Though all of her albums are much more than that, this album holds some of her best lyrical songs and would be great to listen to any time. 
About the Writer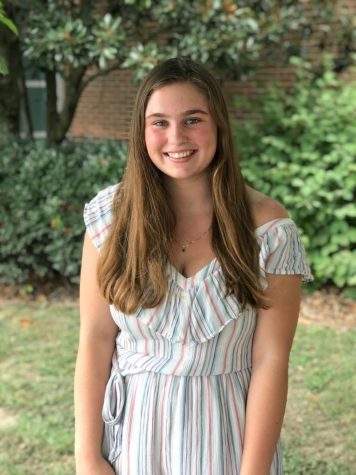 Abby Smith, Yearbook Editor
Abby Smith is a junior and a first year journalism student. This year, she is the editor of the yearbook.

Abby enjoys music, playing guitar, and art....