STUDENT SPOTLIGHT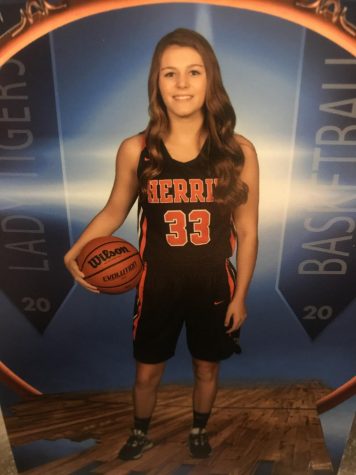 Presli Karnes is a sophomore at HHS. She has competed on her school's volleyball, basketball, and softball teams. She also competed at the FBLA Southern Area Conference. During her freshman year, she won the MVP Mid-Winter Classic Basketball Tournament, made the All-Tournament team for volleyball, and was named Athlete of the Month in January and WSIL Banterra Player of the Week. In her sophomore year, she set a school volleyball record. She also won All-Conference and All-South in volleyball, made the All-Tournament team at the DuQuoin Volleyball Tournament, and made the All-Conference Team for basketball. Outside of school, she enjoys playing competitive Club Volleyball and going to the beach. 
Her favorite aspects of high school have been athletics, the Pep Club's spirit themes, participating in clubs, her friends, and being with all of her favorite teachers. 
During quarantine, Karnes has spent her time bike riding, cleaning, doing crafts, and doing lots of homework. She also spent her spring break in Florida. 
During this time away from school, Karnes will miss all of her friends and her teachers, including Mr. Hall, Mrs. Loyd, Mrs. N, Mrs. Pullum, Mr. Pappenfuss, and Mr. Shurtz. She will also miss playing softball and seeing all of her classmates. 
**Disclaimer: All information is provided by the showcased individual.