STUDENT SPOTLIGHT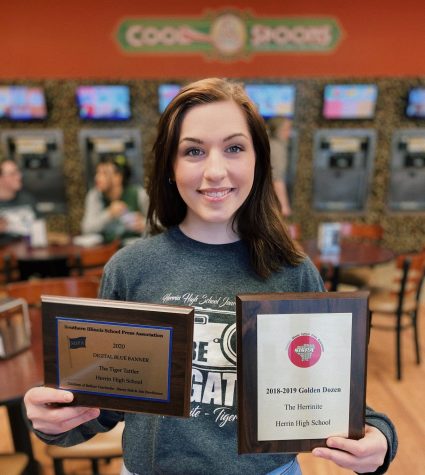 Senior, Gina Wagley, has acquired many accomplishments during her time at HHS.
Gina is a four-year Journalism member, a three-year band member, a State qualifier at 2019 Journalism State, and is the current Newspaper Editor-in-Chief for the Tiger Tattler. 
After her graduation, Gina plans to study and teach English Education. 
Gina's top five favorite aspects of high school are social interaction, English 102 (Mrs. Wilson), Journalism, football games, and lunch in the Journalism Lab. 
During quarantine, Gina has been working on an essay for English 102. It's about the digital
revolution narrowed down to how technology has affected education, which is extremely
relevant in the world right now.
In quarantine, Gina will miss out on many events from the last quarter of her high school career. This year she is missing IHSA sectionals and state, prom, honors night, and maybe graduation.
She has been missing Mrs. Goetting, Mrs. Wilson, and Tiffany Young. According to Gina, the fourth quarter of her junior year was the most exciting.
She misses interviewing for the newspaper and waving to Mrs. Taylor in the hallway.