HHS Takes Over SIU
The Band and Choir Perform in the Shryock Auditorium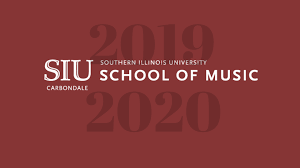 During October, the SIU Department of Music provided a festival for high school students to experience what it is like to perform in Shryock Auditorium. On October 24, many choruses from different schools, including Herrin High School, left fairly early to arrive at SIU to start the practice of the day. Although the day was extremely enjoyable, the singing and learning throughout the day was a bit of a hassle. Nonetheless it was all worth it when the groups finally got together to sing the final product for their friends and family during the concert. 
The students were divided into two groups, male and female. The two groups had different conductors and pieces of music. For the boys to sing, Susan Davenport chose "Vado Ben Spesso", "Down by the Sally Gardens", "The Miller of Dee", "The Vagabond", and "Didn't My Lord Deliver Daniel." During one of the songs, Keith Spradlin played an amazing clarinet solo while the High School Tenor/Bass Choir sang. The girls were conducted by Paul Hondorp, who selected "Lumen", "Richer for Her", "How Can I Keep From Singing", and "The Storm is Passing Over" as the High School Soprano/Alto Choir musical pieces. While the girls sang "Richer for Her," cellist Eric Lenz executed a beautiful performance to add on to the sound. Also accompanying both the girls and boys was Jenny Choo Kirby.
All throughout the day, the students and conductors learned and rehearsed the pieces to prepare for the final performance, which all family and friends were invited to come and watch. The tenors and basses started the night off with their pieces conducted by Susan Davenport. After they were done, the Southern Illinois University Concert Choir performed with Davenport as well. They sang "Ride On," "King Jesus," "Sure On This Shining Night, "Good Tidings to the Meek" from Requiem, "Mary Hynes" from Reincarnations, "Alleluia," and "We Shall Walk Through The Valley In Peace." Lastly, the sopranos and altos displayed their work from the day by performing the songs that they had learned. 
This festival is a very good opportunity for high school students to experience singing and performing with a different group of people other than just their own choir. In an interview with sophomore Rylie Patrick, she explains, "It is an enlightening experience for me, while still fun and enjoyable." While asked about the director, who is different than last year, she says, "The girls' director this year was nice and taught us some useful techniques for singing that we can use in the future." Finally, Patrick added, "It was a fun day, because I got to spend an entire day with my friends, while I also got to do something I love." It is truly important that students get to have these sort of opportunities, which our school fortunately allows us to have.