Music Review – BROCKHAMPTON – GINGER
The "Hip-Hop-Boy-Band" releases their 5th studio album
One would think that following a successful 2017 that featured a trilogy of albums would be hard, but BROCKHAMPTON proved them wrong the very next year. Now, the self-proclaimed boy-band is back with their 5th studio album, "GINGER." 
BROCKHAMPTON is a hip-hop group with a total of thirteen members, six of which contribute to the group's vocals. Each vocalist has their own style, which makes for a diverse discography. The group is known for their very unique sounds in songs, as well as their ability to pick a vibe for a song and just run with it as far as they can.
"GINGER" is a twelve track album that has a forty-four minute play time. It features many different kinds of tracks, which is something this group does with most of their albums. They switch the mood quite often, playing a slow track at first, then switching to an aggressive song that is all over the place.
Some songs that really stick out on this album are "SUGAR," "HEAVEN BELONGS TO YOU," "ST. PERCY," and the title track "GINGER." All of these songs have something special about them that really grabs the listener's attention and makes them crave more. Does that mean the rest of the songs are bad? Hardly. This album does a great job of presenting itself, and the music in it, mainly because of how unique it sounds compared to other rap and hip-hop albums. The only lowlight for this album is the song "DEARLY DEPARTED." It just doesn't seem to fit in with all the other songs of the album. However, that doesn't mean it won't find its way into someone's playlist.
"GINGER" is a crazy listening experience. It features many things that fans of BROCKHAMPTON are used to, but it also features some very interesting songs. The album is a whirlwind of emotions, with many different styles throughout its entirety. It's a 44 minute rollercoaster that many listeners might just have to go on many times after their first listen. According to reviews on Metacritic, this album shows that "BROCKHAMPTON is here to stay for awhile." In a way, it's almost like the band is saying "buckle up, because this is going to be a long ride." Overall, this album deserves an 8/10. Although there may be some filler, this album really captures the energy needed for a fifth installment of the BROCKHAMPTON musical career, and was an enjoyable experience for anyone who loves the hip-hop genre.
About the Writer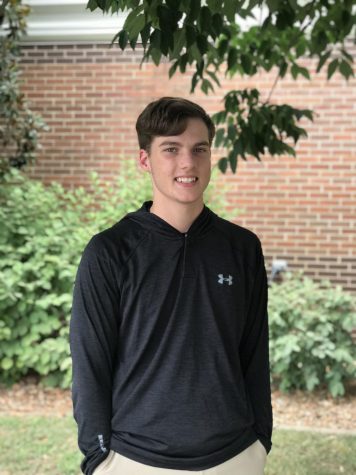 Jakob Milani, Writer, Sports Manager
Jakob Milani is a Herrin High senior who puts his time and effort into his passions: Journalism and football. When at home, he loves to play a wide variety...