All Set to Pounce
Tiger Volleyball season has started.
As the 2019 River-to-River Volleyball season is set to begin, we were able to catch up with some of the girls to get their thoughts about the upcoming year. Coming back after a 17-win 2018-2019 season, an Invitational Championship Title, and a Freshman Conference Championship Title, many of the girls are looking forward to another stellar season under the direction of head coach Karen Jurich and assistant coaches Meredith Torebeck, Chelsea Smith, and Gabby Woodis. 
While their eager eyes are filled with hope for the upcoming year, a recent change in conference scheduling has caused some disappointment in the girls. A long-time friendly rival, the Carterville Lions, will not be matched up against our own Herrin Tigers in the 2019-2020 volleyball season. While that is disheartening, there are plenty of uplifting things the girls had to say about the rest of the upcoming season.
Newcomer to the team, Sydney Allen, is looking forward to "meeting new people, and for new experiences at a higher level atmosphere." Allen is coming in as a freshman after playing for Coach Woodis last year as an eighth grader. Allen will be starting out the season in the middle hitter position, a position that our next interviewee and senior volleyball player, Mia Connor, is quite familiar with.
A four-year veteran under Coach Jurich, Connor has frequently been showcased as a middle hitter, averaging scores in the double digits for the majority of her appearances. "I'm excited this year. I feel like we might have a winning season!" Mia said when asked how she felt about her final year as a Tiger. "I feel like we have a good chance this year [against Murphy]. Our team is strong and they have a new coach, so we're hoping for the best." Hope the rest of the team shares, including sophomore Presli Karnes.
Catching up with a fan-favorite in the Herrin Athletics Department, we asked Presli Karnes, sophomore, to tell us what the '19-'20 team needs to focus on to have a winning season. In a short break after practice, she remarked, "I think we need to have a lot of energy, work hard at practice, communicate more on the court, and work together as a team. I'm pretty upset that we won't be able to play against Carterville this year. They always force us to play better as a team." 
Even through the mild disappointment of not being able to play against Carterville, the ladies were able to pull out the first win of the season over Shawnee on Thursday, August 29. The Shawnee teams played valiantly, but the Tigers JV and Varsity teams were able to pull ahead and maintain the lead for both matches; clenching the victory in two games a piece. A wonderful start to the season, and hopefully a preview of things to come. The Tigers will be back on the court Thursday, Sept. 5 at home against Massac County. Hope to see you there!
Leave a Comment
About the Contributor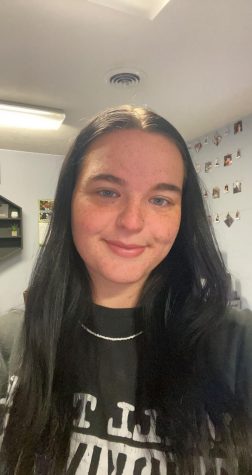 Aubree Williamson, Editor-in-Chief
Aubree Williamson is a senior during the 21-22 school year and this is her third year in the tiger journalism class. She joined because she wants to help...