Writing Their Way to First
The Tiger journalists find success at the SISPA competition
Arriving at the SIUC Student Center on Wednesday, February 27, the Tiger journalists had high hopes of faring well at the Southern Illinois Student Press Association (SISPA) competition; and the day did not disappoint.  
After a morning full of on-site competitions and workshops, the awards ceremony kicked off with the presentation of the Advisor of the Year Award to Herrin High's own Mrs. Goetting!  "When I first started journalism," recalled Goetting, "I had seen Jim Starnes awarded the Advisor of the Year in 2006." So, this award has really brought the entire journalism experience full circle for Goetting, who has now progressed from a student of the program to the teacher.  "I am incredibly honored to receive the Advisor of the Year Award."
As a class, the greatest accomplishment for this hardworking group would be the receiving of a Digital Blue Banner Award, an overall newsite excellence award for student journalism publications.  Not only does this award distinguish the Herrin Tiger Tattler website as a quality student journalism platform, but the bestowing of this award marks the third consecutive year for the publication being a recipient of a Blue Banner award.
For individual competitions, the Tiger journalists entered samples of their work throughout the year into a wide variety of contests.  Junior Tiffany Young took first place in photography, junior Jakob Milani was awarded first in the sports story category, and senior DJ McInturff placed first in both feature and news writing competitions.  
The Tigers also spent the day putting their skills to the test in multiple on-site competitions.  Although they were up against stiff competition with schools from the furthest southern reaches of the state and as far north as Metro-East, the HHS journalism crew represented their school well.  In the photo competition, Young brought home a third. McInturff managed to achieve third place as well in the feature writing competition. Most impressively, Gina Wagley (11) and Olyvia England (10) took home the glory with a first in the yearbook theme design competition!
"I was really proud of both of us," says England, a first time competitor, "because it was my first year doing it, and it kind of made me feel relieved."
Overall, it was definitely an excellent competition for the Tigers, who brought back a slew of brand new awards.  "As a class, I am incredibly pleased with the work ethic and ability of each member," said Goetting, "and I see each one of these students being very successful using their journalistic skills to get where they want to go in life."
But before these talented students leave HHS to fly on their own, they have to face Sectionals on Saturday, April 13, once again at SIUC.  Hopefully the Tiger journalists and turn out just as strong again, taking their skills to the next level and bringing home even more awards.
Hang on for a minute...we're trying to find some more stories you might like.
About the Writer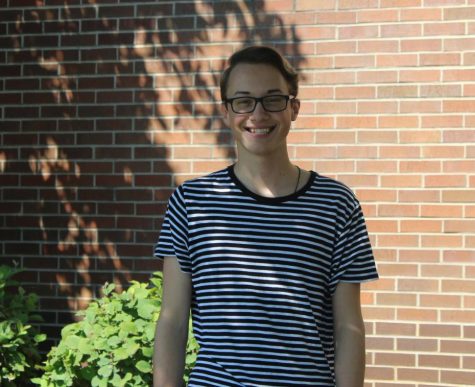 DJ McInturff, Editor, Writer
Hi!  My name is DJ, I'm a senior at HHS, and a co-editor of the Tiger Tattler.  I love being a parted of this talented publications staff, and I'm so...