Passing By The Record Holders
In 1989, Herrin High School had an outstanding quarterback-wide receiver duo. Quarterback Brian Wolff and wide receiver Jay Wright set the record for longest pass by a quarterback, and longest reception for a wide receiver. Both of these would have to happen on the same play, and on that play, Wolff passed the ball to Wright, who took it all the way for a touchdown. The record was set at eighty-eight yards, and stood until 2018.
Wolff, who now lives in Florida, had a lot to say about the record, his friend Jay, and his life now. "Jay and I were very good friends, we grew up together for the most part, we played baseball together as well. Jay would come hangout at my house and I'd go over to his house. We had a very good relationship, which I think is very important for a quarterback and receiver to have. Jay was a very outgoing, friendly person, everybody liked Jay Wright. I think that it certainly helped our communication on the field and we had a good rapport with each other. Jay was my number one look always when I went to pass. He was a great guy. Anytime you hit a big play like that one, you just got very excited." He had some things to say about the record being broken this year, as well. "It's cool. Like everyone says, records are made to be broken. I just don't know if I have any records left. We had some big games against Benton too. It's pretty awesome." Lastly, he talked about his life after high school, and where he is now. "I was fortunate enough to play baseball in college, and very blessed to play professional baseball for ten years. That was something that was very special. Now, I coach baseball still. I have three boys, one is in college, my younger two play football down here and baseball. So now it's just a normal life." Wolff now lives in Fort Myers, Florida, with his wife and two youngest sons. We were not able to get an interview with Jay Wright.
On Friday, September 14, 2018, Herrin quarterback Chance Karnes threw a pass to wide receiver Tate Johnson for a ninety-three yard touchdown pass. This play would break the record for longest pass by a quarterback on a single play, and longest reception by a player on a single play, shattering the record previously held by Wolff and Wright.
Both Chance and Tate were ecstatic about this record. Karnes had plenty to say about this record and his fellow teammates. "It means a lot to me. I've worked hard to better myself. Breaking that record is one that I have been wanting to break. It just shows that football is something I'm really passionate about and I will continue to work to break more records. I said to myself that I had thought I broke it but I wasn't sure. My main focus at the time was going to see if my fellow teammate and friend Ricky Branch was okay." Branch had been injured during that game against Benton. Karnes also talked about how him and Tate are so close. " Tate, being as good as he is, makes it easier to connect with him. He works really hard to play as well as he does. It's easy to connect with someone who works as hard to get better as you do."
Finally, Karnes talked about the team this year. " This year we knew we had lost some good players from last year, so going into it some of us key players knew we would have to step it up and make big plays. Herrin Tiger football is a big deal around hear and we knew going into this year we would have to work harder than ever before if we wanted to keep up with those in years past." Karnes is only a junior, which means he'll be back next year to be breaking some more records.
Johnson also had some comments about the record, and the team around him. "It means a lot to break this record.  But nothing would matter if we didn't have all eleven players doing their job on the field. All I wanted was to win the game first, but it's pretty great." He also had things to say about Karnes, and the team moving on this season. "I think it's because we've known each other for so long and that we hangout a lot outside of football. It really affects the way we play on the field. The key to us doing so many great things this season is just everyone doing what they've gotta do and we can just keep on winning." Johnson is in his senior year, and playing his heart on Friday nights. With only a few weeks left, maybe there can be another player that breaks a record this year. The school will be watching it closely, that's for sure.
About the Writer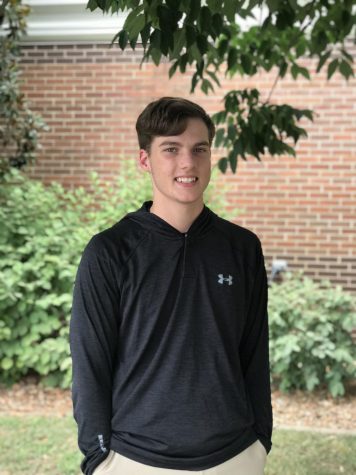 Jakob Milani, Writer, Sports Manager
Jakob Milani is a Herrin High senior who puts his time and effort into his passions: Journalism and football. When at home, he loves to play a wide variety...