Golf Game Strong
The Herrin High School Golf Teams are becoming very strong and successful for both the boys and girls.  This article will be covering some highlights of both teams and will give you some insight on impressive players like Logan Craft and Sydney Nugent.  Prepare for your exciting weekly update!
Amazingly, the boys golf team have a win/loss ratio of 24 to 1.  Their next match is September 27th at Hickory for conference with another around the corner scheduled on next Tuesday for regionals.  
Coach Ewell believes that the biggest competitor they have to worry about is Benton.  He is confident that he has a skilled team with better scorers but says that, "It's more of a mental game," implying that the outcome is based more on how the players are thinking.  Whenever the boys win, Coach Ewell states that the best part is "having the satisfaction of being the better team." Logan Craft, one of the top players, claims to be doing pretty well for the season so far.  There is nothing he really struggles on besides some small parts concerning putting. After practicing some more, he will improve and do better. For all those who don't know, the boys golf teams catchphrase is "We didn't come here to lay up."
Girls golf is doing just as good as the boys if not better.  The other night, Sydney Nugent placed 10th in Conference. She did not expect to do so well but still made it into the top 10.  
Congratulations Sydney!  There is nothing to be said for any main competitor of the girls golf team, but no matter who they face Coach Frankel says that they will try their best to defeat them.  After all, the girls team is scoring lots of good points.
In conclusion, both teams are performing extremely well and are really giving themselves a good reputation to start with.  Remember, Stay Fly Herrin High.
About the Writer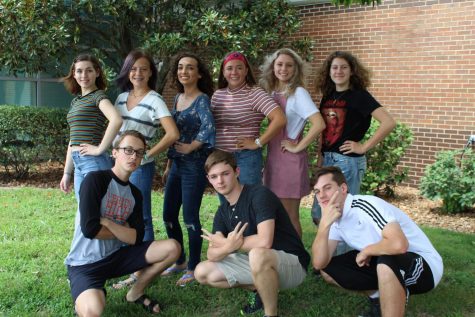 Mykah Mahan, Writer
My name is Mykah, and I'm a sophomore.

I liked to play chess and video games when I'm with a friend.

My favorite food is probably pizza.

My senior...