"Records Were Made To Be Broken"
The Story of the Record Holder, and the Record Breaker
In 1971, a man by the name of Rodney Jones broke the Herrin High School single game rushing record, rushing for 318 yards against the, then unbeaten, West Frankfort Red Birds.
Jim Miller, a classmate and friend of Rodney's, had much to say about that specific game, and Rodney as a person and a player. "West Frankfort was unbeaten, and it was the second year in a row that Herrin would beat them in that game. It was the biggest crowd I've ever seen at a high school football game. Frankfort was up 14-12, and we finally stopped them on the two yard line, and that's when Rodney ran a touchdown for ninety-eight yards, and they just couldn't stop him the rest of the night… it was quite a night. It ended 38-14. The West Frankfort crowd was really loud and giving Rodney a lot of static until we finally blew them out, but the Herrin crowd was screaming and having a good time."
Rodney "Hopper" Jones was born on February 11, 1954. He attended Herrin High School from 1970 to 1973. He played varsity football for Herrin his sophomore through senior year. He rushed for 1,000 yards all three years. His sophomore year, he scored nine touchdowns, and he only got better from there. Every year, his yardage went up more and more, and so did his touchdowns. His junior year, he scored thirteen touchdowns. His senior year, he scored twenty. Jones is the only Herrin football player to have the number 40, retired by the school. His other nickname: The "Fabulous Forty." Overall, Jones had 3,859 yards, and 44 touchdowns. These outstanding stats granted him a football scholarship to SIU. Jones passed away on May 6, 2012. He was 58.
Miller also said great things about Rodney as a person. "Rodney was a really, really super guy, really nice guy. He wasn't boisterous, wasn't loud. He was just a super person. He sure was."
Lastly, he spoke about Senior Jackson Yates, who recently broke Rodney's record. "Well, records are made to be broken, and I've known Jackson since he was little boy. I'm glad to see him do it. He's a quality kid, a lot like Rodney, with the respect Rodney had. He's got that breakaway speed from the beginning, he's bigger than Rodney was, but he's a burner. No one can catch Jackson. Rodney probably has a little better lateral movement, but he didn't run over anyone. Jackson's got a bit more power to him. I was really glad to see him break it. I really was." From that game in 1971, Rodney held a record that no one thought would be broken, but forty-seven years later, Yates did just that.
Friday, August 31, 2018. The Herrin Tigers were playing the Carterville Lions in a big rivalry game. Yates was coming close to the record. Everyone in the stands knew it was coming.  Yates had already broken a long run four different times. Then, one play, Junior quarterback Chance Karnes calls an inside run. Yates needed just two more yards to break the single game rushing record, and on that play, he gained five. When the announcement came over the speakers, the crowd went crazy.
A week later, Yates had a lot of stuff to say about it all, from how he did it, to how his body handled it, and what this record means to him. "I felt pretty good during the first half, the second half I was really tired since I was running a lot. I was excited, like they'd score then I'd come out and score. It felt pretty nice knowing I have a line that blocks, and some running backs that will lead block, felt pretty nice. I didn't know anything about it. I was just running hard, and on one of my last runs, I was told congratulations, and I had no idea what for, then I heard what it was for and got really excited."
Yates also described what breaking this record meant to him. "It means a lot. I always made a deal with my grandpa that I'd break a record, and just by circumstance I did, and I didn't know it. I wasn't really aiming to break the record, it just kinda happened. It feels pretty nice."
As of Saturday, September Ninth, Yates has 608 rushing yards, averaging 202.7 yards per game. After hearing this, Yates made a bold claim. "I'm gonna aim for 2000 (yards), I wanna start the 2000 yard rushing club. If anything, I wanna get 1,890 yards, just to beat Jace Gosha. Because he's an animal, and I just wanna be on top." Yates is currently on pace to get at least 1,824 yards this season.

About the Writer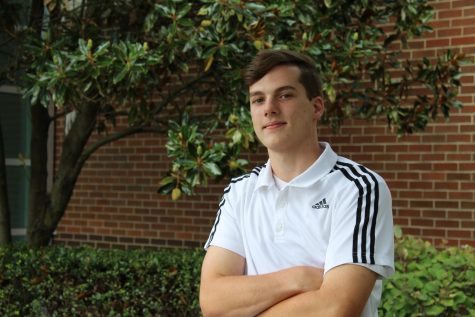 Jakob Milani, Writer
Hello, I'm Jakob. I enjoy playing sports here at HHS, as well as writing about them. I play football and baseball for the school. I also enjoy playing...