The Must See Musical!
Annie Get Your Gun: The Musical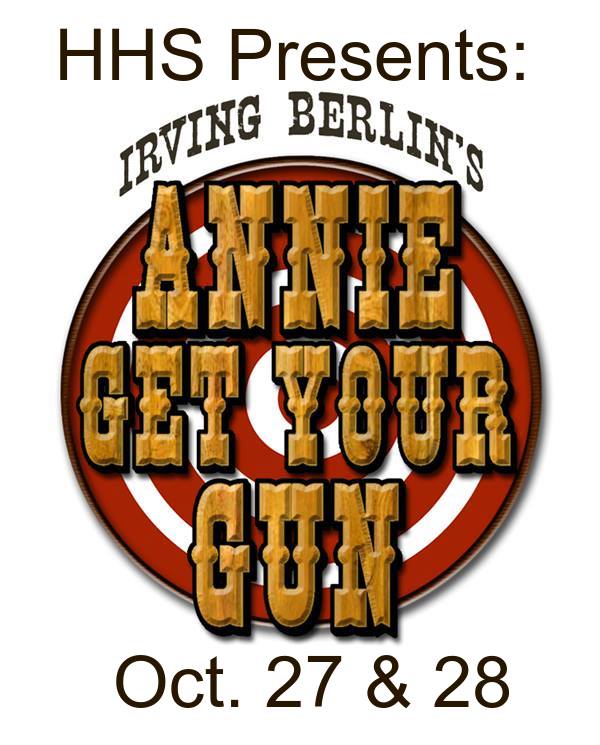 Article, Olyvia England, writer
September 17, 2018
Attention all musical lovers! Herrin High School will be performing Annie Get Your Gun! It is a musical based on a true story. Annie Oakley, played by Alexis Stallman, is one of the best sharpshooters of her time. Frank Butler, played by Lucas Bailie, isn't a fan of a woman shooting a gun. Annie is his biggest competitor and frankly, she is better. Throughout battling each other to be the best, they end up falling in love.
There are also other famous figures in the show that you may have heard of today like Buffalo Bill, played by Brendan Mezo and Chief Sitting Bull, played by Mitchell Brandon. While you are enjoying the show you can also learn some interesting facts!
One of the directors of the musical, Mrs. Simmons, is very excited for the production and she loves to see how talented her students are and hear the funny jokes they like to do during the show to make it more interesting. She's very happy with the turnout for auditions but she knows that there is some hidden talent out there throughout the school. She wishes the talent would stop hiding and show everyone their amazing abilities. Mrs. Simmons also says that the Faculty and staff are very excited to see the show and they cannot wait!
So come on out and see the show Saturday, October 27 at seven o'clock and Sunday, October 28 at two o'clock. Tickets are only 5 dollars for students. These talented students and Mrs. Simmons hope to see you there!