Eyes on the Prize
Herrin Cross Country aims for another successful year
The boys and girls cross country team had their first practice on June 6th. They started off by doing swim practices in the afternoon and evening runs to Chittyville on Mondays, Tuesdays, and Thursdays, and on Wednesdays they did intervals in the evening, on Friday's they did evening Fartlek runs, they had longer runs on Saturday's, and had a day to rest on Sunday. On top of that the team also practiced by going on many trail runs at Ferne Clyffe. August 15th was the first day of school which was the start to their regular schedule, they then started practicing by having easy runs before school, and more difficult runs after school.
The first meet took place at Herrin Park, which is one of the flattest courses they run at every year. Herrin ran against Benton, Pinckneyville, and West Frankfort. The top three boys were Michael Oliver placing first, Merrett Simpkins placing sixth, and Keaton Rosado placing tenth. Michael raced his personal record of 15:52.8, Merrett raced a time of 17:08.3, and Keaton raced a time of 17:56.9. Benton boys placed first with 24 points, Herrin boys placed second with 45 points, Pinckneyville boys placed third with 72 points, and West Frankfort boys placed fourth with 101 points.
After the boys race, the girls stepped on the course. The top three girls were Charli Elliott placing second, Helene Deere placing 11th, and Ella Deere placing 16th. Charli raced a time of 20:07.8, Helene raced a time of 23:16.8, and Ella raced a time of 24:59.7. Pinckneyville girls placed first with 21 points, Herrin girls placed second with 50 points, and West Frankfort girls placed third with 73 points.
In an interview, we asked Michael Oliver if he feels that this cross country season will be better than it has been in the previous years. He answered with "Yes, we have an amazingly strong team this year. We haven't lost anyone and we've gotten a lot of young, new talent on the team." We can't wait to see all of the runners improvements at their next Herrin meet on September 4th. With coaches James Elliott, and Henry Mallow, they will never taste defeat.

About the Writer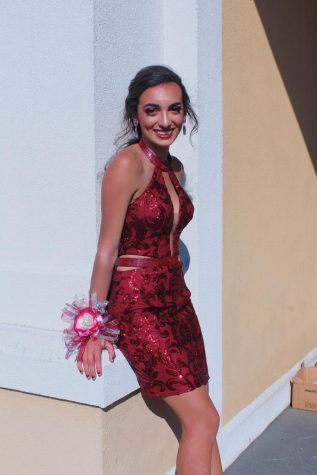 Tiffany Young, Writer/Photographer
Tiffany Young is a junior at Herrin High School. This is her second year in the journalism class. She participates in being on the girls varsity cross...