Pink Week
Herrin's Annual Pink Out Raises More Money and More Awareness Than Before.
Herrin High School has been painting the town pink for ten years in a row. Each year, the fundraiser grows bigger and the community becomes more involved. Records are always being broken with larger numbers.
One number that went up this year was that of shirt sales. From 2019 to 2020, sales went from 318 to 504. An idea was brought up to even sell the shirts during the basketball game next year. If your parents or grandparents attend the game and decide to further support the community, hopefully the Student Government will set up a t-shirt booth next year.
Throughout Pink Week 2020, a coin drive was in full swing for the second consecutive year. Each class could place coins in their own buckets to add points and put paper money in other classes' buckets to deduct points. Each cent that was placed was worth one point, either positive or negative depending on if it was metal or paper. Classes spent the whole week sabotaging each other only for the most strategic class to stand victorious. One of the winners, Kelby Weber (11), said that she was "super happy to see our class raise a bunch of money that will go to cancer research." Overall, the classes raised $3,304.95 during the coin drive with $2,810.34 coming in on Friday. This number was up from 2019's $2,456.30.
The winner was announced during the pep rally at the end of Friday's school day. After phenomenal showings from the dance, flag, and cheer teams, competitors faced off in a game called Skin the Snake. Players stand in a line, hold hands, and work their way backwards lying down. Once all in a team are down, they come right back up. The slowest team is eliminated each round. Kelsey Jurich (11) said she felt "honored to participate. It was really fun and I'm glad I decided to play!" Even through the awkwardness of having your classmate running into you, the game was fun to watch and even more fun to be a part of.
The lead-up of Pink Week ended with the basketball game on the night of January 31. At halftime, a Rose Walk honored all those who have fought or are still battling cancers of all kinds. 19 survivors, including Herrin High's own principal Mr. Johnson, walked out on the the gym floor to be welcomed with applause and standing ovations. The boys resumed their game and brought home another tiger win.
As awareness throughout the community continues to grow, as will Herrin's Pink Out fundraiser. Last year's $6500 amazed the American Cancer Society that such a small area raised so much. You can imagine the shock when they heard that this year it increased to $8200. Next year, the numbers are only expected to grow.

About the Contributor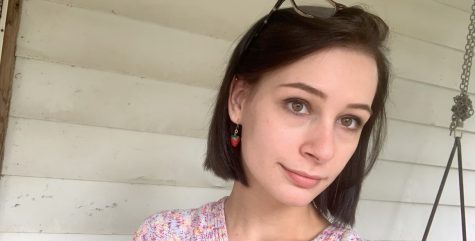 Kelsey King, Copy Editor, Editor-in-Chief
Kelsey is a senior in her second year of Journalism. This year she earned the title of Editor-in-Chief of the Newspaper. In her free time, she likes to...