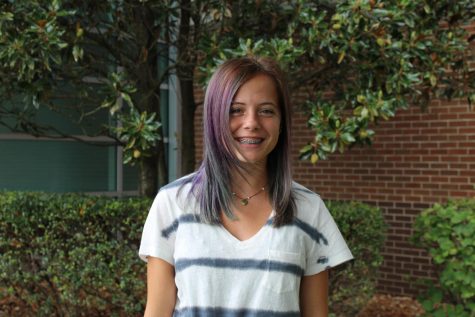 Bryndle is a senior at Herrin High who spends most of her time between the tennis courts, the horse barn, and the journalism room.
Bryndle has been a member of the journalism class for 3 years now and has been an editor for 2 years.
Bryndle devotes her heart and soul (and money) to her horse, Oscar and her Golden Retriever named Ranger.
Bryndle can always be found around the school with a camera and a G2 pen in her hand.
Bryndle Burks, Editor/Lead Photographer
Mar 18, 2019

Herrin vs. Everybody

(Media)

Jan 23, 2019

No Budget, More Problems

(Media)

Dec 18, 2018

December Athletes of the Month

(Media)

Nov 28, 2018

All "Yee", More "Haw"

(Story)

Oct 16, 2018

October Athletes of the Month

(Media)

Sep 28, 2018

Don't Knock Your Noggin'

(Story)

Sep 28, 2018

Rain, Rain, Go Away

(Story)

Sep 24, 2018

Powder Puff Games 2018 Action Shots

(Story/Media)

Sep 17, 2018

Vape Nation:  An Epidemic

(Story)

Sep 03, 2018
Sep 03, 2018
Feb 28, 2018
Feb 01, 2018

Pink Out Pep Rally Pictures

(Story/Media)

Jan 25, 2018

Did Somebody Say "Horse"???

(Story)

Dec 14, 2017

Christmas 2017- Ugly Sweater Day

(Media)

Nov 29, 2017

Wrestling Pictures- Duel against Harrisburg

(Story/Media)

Nov 22, 2017

Dodgeball Tournament Pictures

(Story/Media)

Oct 16, 2017

Homecoming Coronation 2017 Pictures

(Story)

Sep 27, 2017

Hit Us With Your Best Shot

(Story)