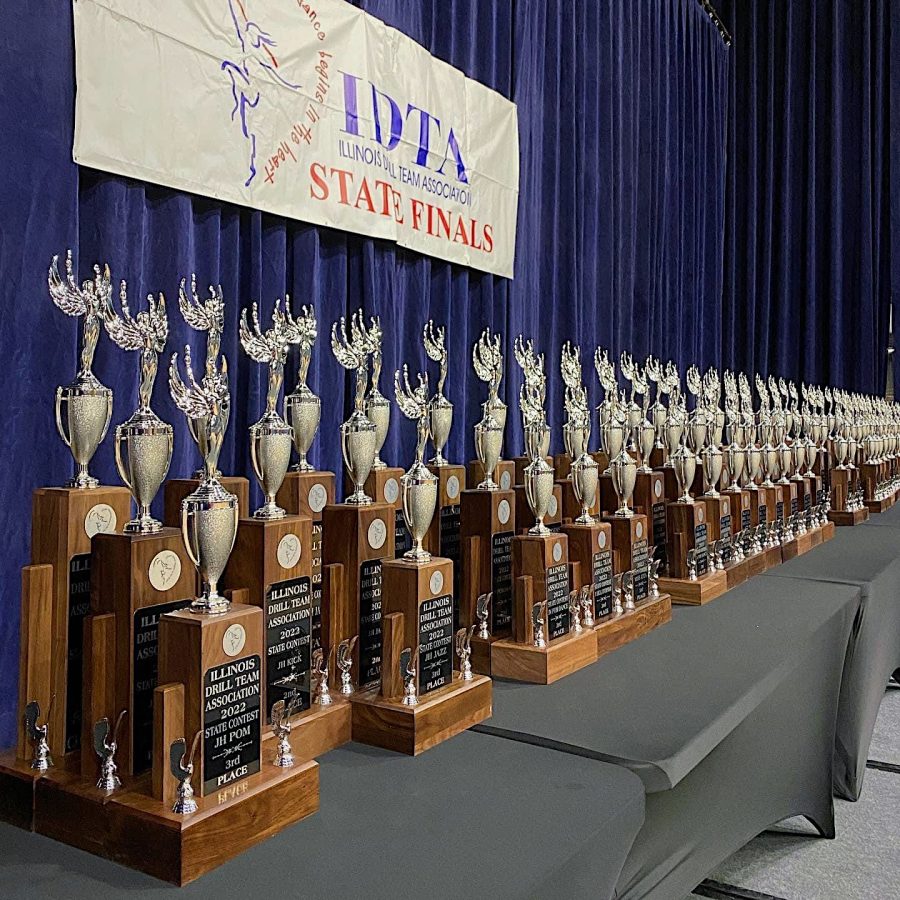 On February 11, the Herrin High School Tigerettes and Flag Team skipped school to travel to Springfield for the IDTA State Competition. All season, these girls practiced and perfected their routines with hopes of receiving a qualifying score, an 80 or above, and performing at state. Luckily enough, these scores were met by both teams, advancing them to the state finals. 
This year, the flag team cherished four seniors who have been members of this team since their first year of high school. These seniors include Mac Absher, Chesney Cox, Josie Gray, and Melanie Kirk. When asked about their favorite part of state, one of the seniors, Josie Gray, explained how stressful it was. Aside from that, she enjoyed watching all of the performances throughout the day. The team's Lyrical Flag routine, which placed 3rd in the state, was Josie's favorite because the moves in the performance required the team to learn something new, like the calypso. Answering what she is going to miss the most about the team, Josie expressed her appreciation of having something to work for. She said, "It's really nice to have goals." 
Those goals were met when the girls were named State Champions with their Tall Flag routine. Along with that, Mac Absher placed 2nd with her flag solo out of 14. Seniors Josie Gray, placing 6th, and Chesney Cox, placing 14th, also qualified their solos and competed at the state competition. 
Moving over to the Tigerettes, this team includes three seniors:  Alysah Charlet, Ashtyn Pierce, and Kerstin Green. Two of the seniors, Alysah and Ashtyn, have been members of this team all four years of their high school careers. In an interview with Alysah, she said that her favorite part about state was "being able to perform one last time" with her teammates. Looking back on her past years as a Tigerette, Alysah commented that her favorite dance she has ever performed was the "scary" hip hop routine from her sophomore year that placed 3rd at state. This is her favorite routine because it allowed the girls to experience a different side of hip hop and create a creepy character. With this being her last year, Alysah stated that she is going to miss "performing and having a group of girls to call a family." 
The Herrin High School Tigerettes placed 3rd with their hip-hop routine. Competing her self-choreographed solo, Ashtyn Pierce placed 7th in her pool and 15th overall out of 44 soloists in the preliminary round on Friday. 
Since state was the last performance for both of these teams, this year's dance and flag season is officially over. All of these girls have proven themselves as tigers with their pride and determination. 
For anyone who wants to join these teams next season, be sure to bring as much drive and spirit as these amazing members. Congratulations, ladies!