Senior Superlative: Born in the Wrong Decade
Aaron Elliott was very excited, but not surprised when he found out he won the superlative "Born in the Wrong Decade." Aaron feels as though he "fit it very well" as he mainly dresses in vintage clothing and has "somewhat of an old soul." He mainly gets his clothing from estate sales and thrift stores so he can find the perfect vintage outfit. These places give him the opportunity to find "gems that would have been tucked away from the world." Though he loves all eras of fashion, Aaron's favorite is without a doubt the 60s. "So many colors and shapes, and the hair was just to die for" Aaron said as he described his love for this period. He also loves 40s wartime fashion and wants to collect as many pieces from this time as possible. For fashion inspiration Aaron mainly looks to Dolly Parton, but when he is feeling formal, Queen Elizabeth II's style never lets him down. Outside of school Aaron enjoys shopping, sewing, and "skimming through fashion history books." Aaron plans to attend SIUE this fall and wants to pursue education as a high school history teacher. 
Unlike her counterpart, Makay Russell was not expecting to receive this superlative at all. "At first I was a little confused," she said, but she soon realized that her fashion is definitely inspired by some past eras. To find her perfect outfit, Makay sometimes thrifts and buys from friends and yard sales, but when looking for something specific she will break out the laptop and online shop. Makay's favorite eras of fashion are the 70s and the 80s. She often finds herself wearing "80s grunge outfits," but she loves the music from the 70s and says "when [she] wears 70s period clothes [she] feels so cute." Though she has many style inspirations, her biggest has to be Audrey Hepburn. "I feel like her sense of style is just timeless," says Makay. Other than fashion, Makay enjoys baking and has recently started to do it more and more often. She also enjoys hiking, traveling, hanging out with friends, and relaxing with a good television show. 
About the Writer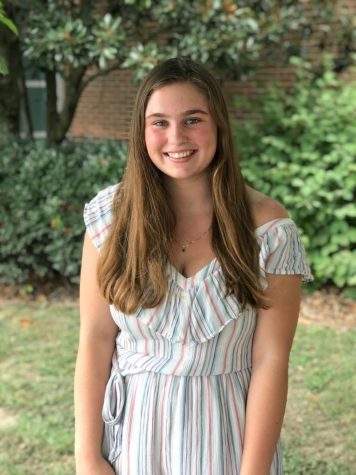 Abby Smith, Yearbook Editor
Abby Smith is a junior and a first year journalism student. This year, she is the editor of the yearbook.

Abby enjoys music, playing guitar, and art....