Senior Superlative: Best Hair
Senior Lance Mattingly was "pretty stoked" to find out he had won the senior superlative for best hair.  He was excited to have something he can "show [his] kids someday" in the future.  Seeing as he recently "got a large sum of [his] locks cut off" Lance was surprised when he found out he received the superlative, and glad his classmates chose him.  To keep his hair looking its best, his morning routine is longer than most.  Lance believes "the first key is to know your hair."  For him, this means wetting it every morning and styling it while it's still wet.  He lets it dry and shape, then touches it up with some gel before he is out the door.  This long morning routine comes at the cost of him being "late all the time."  When not participating in varsity cross country or track, Lance has plenty of hobbies to keep him busy.  He sometimes passes the time watching movies and is always down to hang out with friends.  To prepare for college and get ready to "leave the nest," he has also started experimenting in the kitchen, watching Gordon Ramsey's YouTube videos to get some extra help.  As of college, Lance is still undecided as to where he is going, but will most likely study something in the "finance realm."  
Senior Hayley Franklin was also shocked when she found out she had won the senior superlative for best hair. "I was not expecting it at all," said Hayley with a smile as she explained how she saw the twitter post made by the high school.  Hayley said she "Freaked out," when she saw her name. Seeing as she won this superlative for best  hair, it was only fitting that she explain just how she takes care of it.  Her long blond hair requires plenty of care, but her routine is much simpler than you would think.  Hayley makes sure to wash her hair every other day so it does not get dry and stays healthy.  She rarely uses heat to protect her hair, and her secret is to rinse with cold water to reduce frizz. This little trick also just "feels great on your hair" according to Hayley.  Being a varsity tennis player, Hayley rarely gets a break, but when she does, she fills her free time with some of her favorite hobbies.  When not in schools or practicing, she enjoys photography, modeling, drawing, and painting.  Hayley also enjoys watching Tik Tok, and even makes a few of her own.  When asked about her college plans, Hayley was "undecided between SIUC and SIUE," but is pretty confident in her major in psychology.  She doesn't have any plans to move far or enjoy the city life just yet, but she is always open to new experiences.  Hayley and Lance both thank everyone who voted for them and are extremely appreciative to have received this superlative. 
About the Writer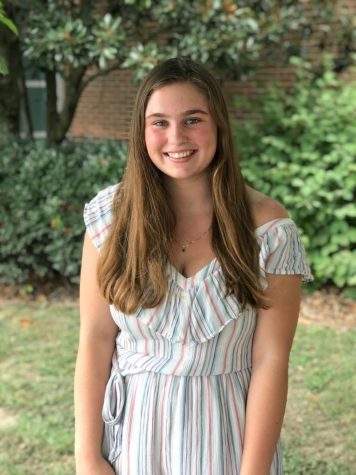 Abby Smith, Yearbook Editor
Abby Smith is a junior and a first year journalism student. This year, she is the editor of the yearbook.

Abby enjoys music, playing guitar, and art....