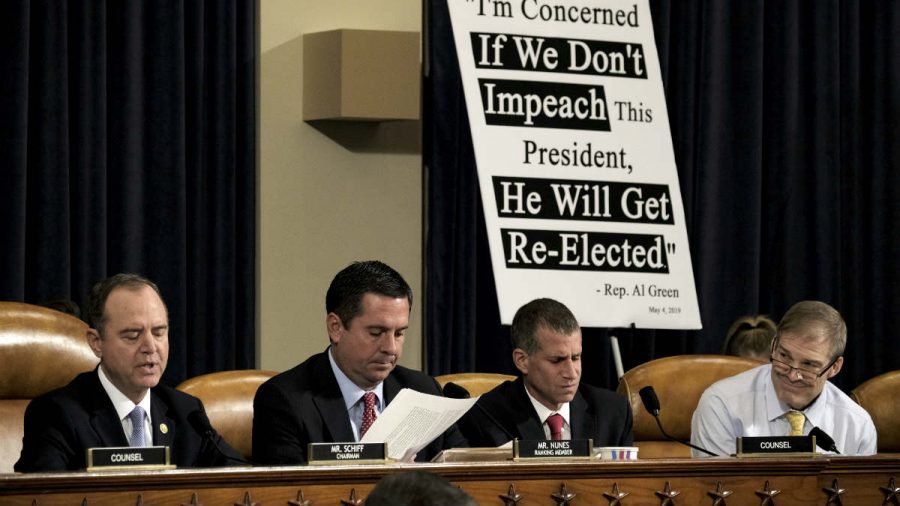 https://www.conservativereview.com/news/impeachment-hearing-bombshell-wasnt/
On September 17, 2019, the first impeachment hearing against President Donald J. Trump occurred. The impeachment was formally announced on September 24, 2019 by Nancy Pelosi. President Trump is a person who everyone has an opinion on, whether it is positive or negative. The hearings will last until he is either proven to be innocent or guilty. If proven guilty, it will mean that President Trump will be guilty of using his spot as President for personal gain. "The President must be held accountable," Nancy Pelosi said in her inquiry speech. "No one is above the law." There have currently been three days of hearings held.
The allegations began when a report from someone known as the "whistleblower" sent in a nine page report of urgent concern. The whistleblower is an anonymous individual who has a position in the White House. In the report there are multiple allegations that apparently have many witnesses within the White House. One of the major allegations is that Trump exchanged phone calls with Ukrainian President, Volodymyr Zelensky, in order to gain favor for Trump. If true, it would mean that Trump was trying to probe former Vice President, Joe Biden and his son, Hunter Biden. The call was held to ensure that Zelensky would favor Trump.
While there is not enough information to determine if what the President is doing is worthy of impeachment, there are many more testimonies to be heard and many more things to be proved. Trump tweeted, "Such an important day at the United Nations, so much work and so much success, and the Democrats purposely had to ruin and demean it with more breaking news Witch Hunt garbage. So bad for our Country!" If impeached, Trump will additionally not be able to participate in the 2020 election, and could possibly serve prison time. The House-wide vote will determine the impeachment after all hearings and testimonies have been stated.