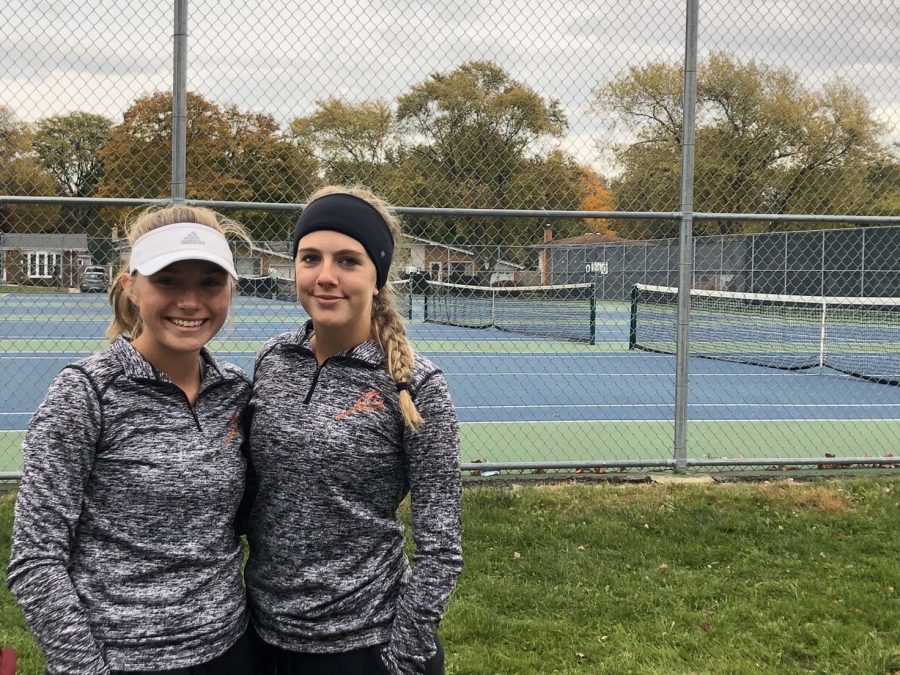 Kristi Weber
On October 25, Kelby Weber (11) and Breanna Nesler (11) competed at the Tennis State Tournament in Mt. Prospect, IL, up near Chicago. They played as a doubles team, after they had previously qualified at the sectionals tournament.
They left for the trip to the cold, windy north on that Wednesday morning before the big day. Both girls had the support of their families who came along. Not only did the girls compete against many other tough teams, but also they had to fight through the cold wind.
Their first match was a tough fight, which resulted in their opposing team from Johnsburg winning with 6-0, 6-0.  However, they won their second match, 6-0, 6-2 against Bishop McNamara. This win was monumental for them, as it is a huge deal to win any match at a state competition. "I was really proud of us, because state was one of our goals," Nesler exclaimed. After playing hard in the cold, they sadly lost their third match, which was what determined whether or not they would continue on to the second day of competition. That last match was against St. Thomas Moore, with that team winning 6-1,  6-0. 
Even though they only won one match, that is still an amazing accomplishment. Competing in Chicago is always a goal on the minds of each tennis player. Not only were the girls proud, but so were their teammates, families, and coaches. As with every trip to State, memories were made, goals were achieved while new ones were set for the next year. Weber's goals were "to win sectionals and get as many people as we can to state." Nesler said "my goal is always to win more matches than I lose." Now it is time to say farewell to this tennis season, which ended on a great note!