How Far Would You Go?
Although running the mile may be every physical education student's worst nightmare, students who participate in cross country willingly race three miles. It doesn't come naturally for these swift footed runners. Most even sacrificed their summer fun to stay in shape. Now that's what I call dedication! To train they do both distance runs and speed workouts on trails, hills, roads, and even the tracks. 
With it being Dusty Mallow's last year out of his 19 years of coaching, he is guaranteed this year will be successful. "I think we're going to have a really good year. We lost some great runners on the boys side but I think we will contend for a conference title. I would love to advance to sectionals as a team," said Mallow. "On the girls side we're going to be right there. We've doubled the size of the team and I'm excited about it." 
The first meet was held on August 27 at West Frankfort City Park where Herrin raced against Pinckneyville, Benton, and West Frankfort. The boys team placed 2nd with 47 points scored and the girls team placed 3rd scoring 94 points. In the girls open race, Charli Elliott placed 2nd, Briley Engram came in 16th, Ella Deere placed 19th, Tiffany Young finished in 23rd, and Madisyn Varner took 34th. On the boys side Ruben Pullum placed 3rd, Merrett Simpkins came in 6th, Riley Chrostoski took 9th, Lance Mattingly finished in 12th, Cameron Christ placed 17th, Victor Sanchez came in 29th, Grant Ellet finished in 35th, Hayden Cole came in 38th, Andres Diaz took 39th, Drake Lannom ended in 40th place, and Leyton Earl finished in 41st place.
 "To tell you the truth, I'm kind of down about it being my last year coaching. I enjoy coaching and the feeling of competition and dedication in the athletes. I will absolutely miss it," Mallow expressed, reflecting on his last couple years of coaching. 
With new and improved personal records, these runners will soon be competing at Herrin park on September 10. Come support your local distance runners as they race against their opponents.
Hang on for a minute...we're trying to find some more stories you might like.
About the Contributor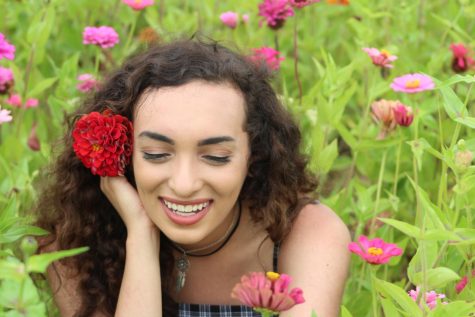 Tiffany Young, Lead Photographer & Photography Editor
Tiffany Young is a senior at Herrin High School. This is her third year in the journalism class. She is the lead photographer and photo editor for the...