Saying Goodbye to Pork Fritters
Cafeteria Regulations Tighten Up.
Everyone has noticed the changes in the lunch menus, but why were they necessary? Our food tasted fine; why fix something that's not broken?
Jeannine Coffey is the new food service director for our school district. According to her overflowing binder of laws, our cafeteria has significant alterations to make. 
These laws include the addition of a la carte. For those unaware, it is similar to our old ways of handing out seconds in lunch B. With this new system, students can purchase a second entree or even additional items like chips and Rice Krispie treats. For now, the a la carte will be offered on a cash basis. However, Coffey is working to allow for student ID cards to be used to charge accounts. 
Another addition is the share table: a space where you can place unopened or untouched food or drink items for other students to pick up. A considered student suggestion is implementing multiple share tables so these are more accessible to hungry mouths and as conveniently located as the trash cans. 
The laws for the actual menu items require more regulation. Herrin Tigers are still grieving the loss of the pork fritters, but these and other fried foods must leave us. The district must now comply to laws specifying the daily and weekly requirements of the nutrients as shown in the attached chart. 
Since we lost items, we must also gain a few. As we have already seen, the quesadilla is among the new food additions. Also joining the high school's menu are lasagna rolls, mini chicken tacos, personal sized pizzas, and "big daddy" pizzas. This "big daddy" pizza, as mentioned before, is going to resemble a typical everyday pizza of which students will get triangular slices, unlike the rectangular shaped slices that we are used to that still remain on the menu. These items, along with more familiar foods, will rotate on a five-week cycle. This means having a set routine which will definitely make life easier for kids with allergies. 
Administration understands that this new system may not be liked by all students. If you have any complaints or compliments, Mrs. Coffey excitedly welcomes any and all feedback from students. She can typically be found during lunch periods at the high school. If she is not present there, you may reach her office at the unit building by phone, fax, or visitation. 
Hang on for a minute...we're trying to find some more stories you might like.
About the Contributor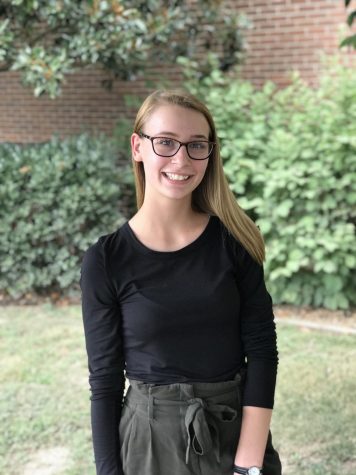 Kelsey King, Copy Editor
Kelsey King is a junior in her first year of Tiger Journalism. She is the class's Copy Editor and spends her time practicing for Math Team. She also enjoys...