The Fashion 411
Goodbye "hot girl summer," hello to the brisk chill of fall. School is back in session and this quarter's fashion is HOT. We teens are trading in our handbags for backpacks, our tank tops for sweatshirts, and our summer glow for fluorescent lighting-which is never flattering. It is terribly sad to say goodbye to our summer dreams, but the 2019-2020 school year is well on its way and is bringing an even bigger autumn, full of fashion dos and don'ts. 
This past summer's teen fashion was full of over-sized pastel shirts and scrunchies, popularized by the looks of the stereotypical "VSCO girl." What is a VSCO girl? They are the girls of 2019. You'll catch them in their natural habitat wearing a scrunchie, a tube top or a loose fitted shirt, maybe a puka shell necklace that went out of style in the 90s, Birkenstocks, which are those homely, Romanesque looking sandals, that are increasingly comfortable. Don't forget the big Hydroflask and homemade friendship bracelets in bright Lisa Frank colors to finish off the look. 
Now that is just the style of the average American teenager. If we look into the fashion of the summer of 2019, we would find a variety of wonderful clothing derived from different decades and cultures. For example, the wicker basket bag was all the rage from late spring to now. These bags, sometimes made of straw or rope in macrame style, were popularized during the late 60s and early 70s, inspired by practical and stylish Southern American women. These bags are subtle statement pieces, sturdy yet flexible, and perfect for a woman on the go. 
The 90s and early 2000s definitely made a surprise comeback this past season, for better or for worse. Blue eyeshadow, low rise jeans, butterfly clips and tons of lipgloss. Of course, like history, fashion repeats itself but will always add its own little flair to it. For instance, we all know that we are trucking it towards 2020, the start of a new decade. 100 years of female voting, 100 years of liberation from the corset, 100 years of fashion. In 2019 we started seeing a rise in fringe added to our little ensembles. Fringe tube tops, fringe jean jackets, for goodness sake I even saw fringe shoes! That in my opinion, is the start of something magical. This is the build up to a movement that will reflect the fashion of the Art Deco period. Isn't that exciting?! Drop waists, fringe and feathers, all are hopefully coming back, baby. I have even seen a rise in bobbed hair and laid finger waves, made notorious by the film stars of the 20s. Clara Bow, Fanny Brice, and Greta Garbo all sported the short sleekness of waves and bobs, therefore the rest of up-to-date civilians did too. 
This summer also brought with it one of the worst fashion moments since girls wore jeans under mini skirts, the "Im baby" movement. "Im baby" started out as a phrase meaning that the person saying it is the most important. If a girlfriend said that she was baby to her boyfriend, watch out mother, you no longer hold number one female in his heart. This phrase brought on a fashion movement that was so silent but had everyone following. Pig tails, soft baby blues and pinks, ruffles and even pacifiers! Girls were going ga-ga for articles of clothing that reminded them of outfits worn by infants and toddlers. Loads of brands were selling overalls, frilled shorts, and silly matching headbands or clips. Mary Jane shoes with ruffled socks even made a brief appearance. It was a fashion fiasco that I am proud to say that I never participated in. I once even saw a girl wearing a teething toy necklace as a choker!
At the end of this past summer, we started seeing a little bit of layering. You may ask, "wasn't it a little early for layering?" No, Balenciaga has been doing it since the stroking heat of July. Shirts with sweaters and puffer jackets, two flannels with maybe a small evening sweater to go around your shoulders is all the craze in the High Fashion world. Very campy sweaters with incredible amounts of detail and patchwork are coming due to Gucci and Moschino putting out horribly gaudy things all year. When I say horribly gaudy, I mean it in a good way. 
This fall, expect to see neutral tones with splashes of color and loads of layering. Capes are also becoming more seen, that is in high fashion of course. In Southern Illinois expect to hear girls say to their hairdressers, "it's time for lowlights" and demanding pumpkin spice lattes while wearing shirts that have phrases like "witch, please!" and "Live, Laugh, Hocus Pocus." on them. Fall fashion in our small area has not changed since 2014; can you tell? These women still have thick eyebrows and thin cardigans that provide no warmth and plaid scarves from Old Navy. Maroon and mustard yellow things fill the outlet malls, begging for a woman named Susan to pick them up and take them to her beige home and her husband Dale. This fall, don't be afraid to work with colors! Earth tone greens and purples, try to even spice up that outfit with red or navy blue. Gold jewelry is always a go to, but try working with elements of the earth. Wooden beaded necklaces and earrings are a must, and don't put your basket bag away too soon. Put a silk scarf on the handle and get to stepping. 
September 1 rolls around and suddenly every girl has a messy bun and Ugg boots on. I have had thoughts that "ugg" is short for ugly. I struggle to come up with one person who can properly style them! Try simplicity. Short hair with some curls and a little bit of teasing can make any girl look like a star. Steer clear of the messy bun. Black pointed flats, or maybe even wooden clogs, are amazing fall shoes. Leave the combat boots to coal miners. Suede booties and nude slip ons are amazing, but black pointed toe shoes are a necessity. They are classy and so cute!
This fall when dressing up for events, don't be afraid to include a skirt suit or a blazer and slacks. Shoulder pads are back in and so is plaid. Don't be too afraid to go full 80s with a cinched power suit. Pants or skirts should be more straight cut rather than tight or too loose. They should have a starched uniformness to them. Nobody wants to see flowy or too tight pants in a fancy setting. Pair a chunky belt and some black kitten heels and you'll be on your way. Don't ever forget jewelry, a statement brooch is always a wonderful accent to any outfit. Keep earrings small and not distracting. If you are going to be talking face to face with people at this occasion, you want people to stare at you, not the massive earrings you have dangling from your sore ear lobes. And don't be too afraid to incorporate a fur, they will always make an outfit more luxe. 
Nails this past summer were loud outgoing colors with even the shy girls getting little crystals and inching the length of them forward. Pop culture icons have popularized the long acrylic trends that are going on today, inspiring creativity and expression on hands. This fall, keep it more simple with maybe some glitters and less art. Don't force your nail artist to paint tiny tacky owls on your nails. Keep it classy with neutral colors or something complimentary to your skin tone. 
Summer was a whirlwind, and fall is slowly moving in. Keep yourself up to date with this season's fashion and don't ever be afraid to step outside of the box. That is usually where all the fun is.
Sources:
https://www.elle.com/fashion/trend-reports/a26147021/fall-fashion-trends-2019/
https://www.cosmopolitan.com/style-beauty/fashion/g26733468/summer-fashion-trends-2019/
https://www.urbandictionary.com/define.php?term=vsco%20girl
https://www.thecut.com/2019/04/what-is-the-im-baby-meme.html
About the Contributor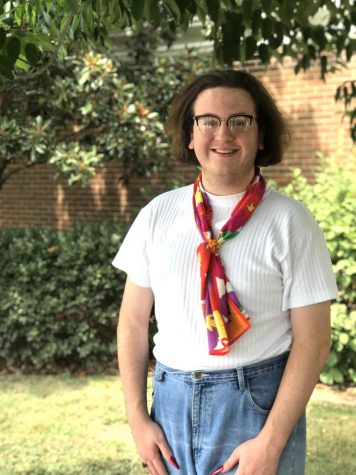 Aaron Elliott, Specials Manager
Aaron is a rambunctious junior with high hopes and tons of ambitions. He is the Specials Manager for the Herrin Tiger Journalists. He enjoys sewing, shopping,...