February Athletes of the Month
An athlete is determined and dedicated to their craft. They push themselves to do their best, no matter what sport they may be playing. They are always trying to improve. These Athletes of the Month are great examples of determination and hard work. This month, we include three athletes, all of which have made a huge difference for their team. Our Athletes of the Month for February are junior Brandon Anthony, freshman Presli Karnes, and junior Tyler Dunfee.
Brandon Anthony is the starting point guard for the boys basketball team, and was awarded MVP of the West Frankfort Mid-Winter Tournament after leading the team to the championship. He practices for many hours every day with his team, focusing on his shooting and passing. He says the most difficult part of basketball is "the criticism and how we all have to take it." Anthony is very close with his teammates, on and off the court. "We all have one goal, and that's to win. Off the court, we all just hangout and become better friends." His sports idle is NBA forward LeBron James. His favorite teachers are Ms. Torbeck and Ms. Bonifield. And when he is away from school and sports, he says that his favorite hobby is playing Fortnite with his teammates. Anthony was very happy to win this award. "It feels great," he said, "we have a lot of great athletes at the school that are very good."
Presli Karnes is a basketball and volleyball player who recently won MVP at the West Frankfort Mid-Winter tournament. She practices 6 days a week, Monday through Friday. "I try to improve my skills and work on my shot." Her favorite part of any sport is being with her teammates. "I love being around them and talking to them and making each other laugh." She says the most difficult thing about basketball is "when you miss a shot, you kinda put your head down. But you can't take a break because that could be a game changer." When she's away from sports and school, Karnes loves shopping and spending time with her family. She is part of French Club, HOSA and Student Government at HHS. Her idol in sports is volleyball player Kerri Walsh Jennings. Karnes was very excited to win the award. "It's an honor to win because there's a lot of girl athletes at HHS and I'm very thankful."
Tyler Dunfee is a bowler here at HHS who recently competed at the state bowling competition. He practices everyday for two to three hours. "I just try to get better at hitting the shot I'm looking at." Dunfee likes to compete with his teammates. "My teammates are really my best friends. The wholes team jokes around during the day, but when it's time to get serious, we get serious."" He says the hardest part of bowling is the hours you put in. "It really takes a toll on your body." When he's not practicing or competing in matches, Dunfee likes to play basketball. He also competes on the HHS Math Team. His idol in sports is Hall of Fame basketball player Michael Jordan. Dunfee was happy to hear he won the award. "This is a great honor. I hope that eventually we have a team of the month."
This month, the honor of Athlete of the Month was presented to two MVPs and a state participant. Neither of these accomplishments are easy to do. They had to work hard to get to where they are. But they know that there are many great athletes here at HHS, and that it was a very difficult decision for athlete of the month. They pushed themselves to be the best they could be, and that's why they are this month's Athletes of the Month.
About the Contributor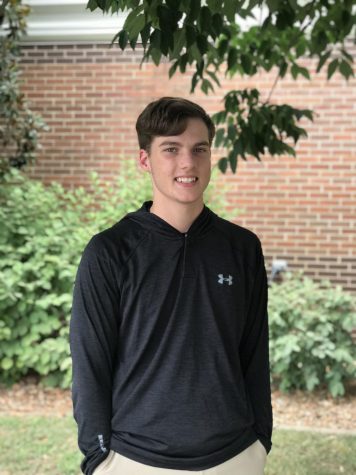 Jakob Milani, Writer, Sports Manager
Jakob Milani is a Herrin High senior who puts his time and effort into his passions: Journalism and football. When at home, he loves to play a wide variety...