All "Yee", More "Haw"
Meet the Cowboys and Cowgirls of Herrin High.
Article, Bryndle Burks, Editor, Lead Photographer
November 28, 2018
Living in Southern Illinois, one may think that horses are a common thing, but how much do people at Herrin High really know about the horsemen and horsewomen at HHS? The Journalism Crew asked a hand full of horse-people at Herrin High what their sports are all about.
Chance Karnes, a junior at Herrin High, competes in cutting and ranch sorting. Cutting is an event in which a herd of cattle are placed in a pen or arena. A rider on a horse picks out a cow and has the objective of herding this cow a certain distance away from the rest of the herd. The rider then uses his or her legs to control the horse back and forth, staying with the cow. The goal is to work three cows in the two and half minutes allowed. Sorting, a year round event, consists of 11 cows in a 40 by 40 round pen. Ten cows are number zero through nine and one cow is left without a number. The objective is to sort out the cows out in order with a time limit. Karnes's biggest accomplishment is placing in the top 20 in Texas.
Barrel racing is another horse affiliated sport that a few students at Herrin High compete in. Barrel racing involves three barrels set up in a triangle. A horse and rider run through the barrels in a cloverleaf pattern and the fastest time wins. Bryndle Burks, a senior at HHS competes with Whippoorwill Rodeo LLC and the International Barrel Racing Association at both local and big events in arenas from Christopher, Illinois to Murfreesboro, Tennessee.
Another cowboy at Herrin is junior Colton Cornman. Cornman competes in the bronc riding events at Whippoorwill rodeos and is a member of the Illinois High School Rodeo Association.  Bronc riding is a rodeo event that involves a rodeo participant riding on a horse that attempts to throw or buck off the rider. The rider attempts to stay on the horse for eight seconds while the horse and rider are judged and scored. Cornman has competed at the IHSRA finals and placed second.
While horseback riding isn't as mainstream as most sports, it is still alive and well in Herrin, IL.
About the Contributor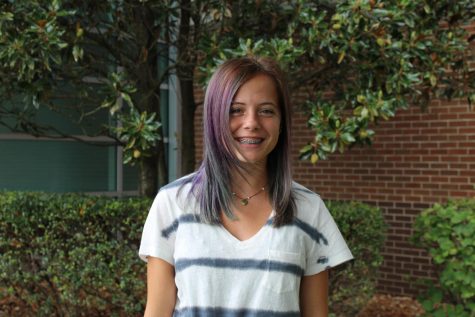 Bryndle Burks, Editor/Lead Photographer
Bryndle is a senior at Herrin High who spends most of her time between the tennis courts, the horse barn, and the journalism room.

Bryndle has been...